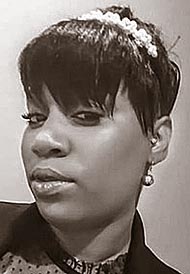 January Denise Curry, age 39, of Dayton, passed away Thursday, Feb. 4, 2021, at her home. She was born Dec. 5, 1981, in Dayton, the daughter of John and Edna Gudgel.
She was preceded in death by her maternal grandparents, Willa Underwood and David Curry; paternal grandparents, John and Geneva Gudgel; and best friend, Ebony Radford.
January is survived by her loving sons, Rickey Trevon Jaire Harris and Cory Jayden Martin; mother, Edna Gudgel; father, John (Kathy) Gudgel; significant other, Cory Martin; beloved aunts, Malandy (Lester) Robinson and Veda (Jack) Glenn; uncles, David Curry and Germaine Underwood; life-long friend, Rickey Harris; godmother, Rhonda O'Neal; special cousins, Nicole Gaines and Angela Robinson; and numerous family and friends.
January was a 2000 graduate of Trotwood Madison High School, where she was a varsity cheerleader. After high school, she attended Wright State University and Clark State College and graduated from Creative Images Institute of Cosmetology. Jan became an esthetician and a tax preparer. She will be remembered for her fun, loving, goofball personality and her keen sense of fashion, but most importantly, she was the best mother to her two sons. Jan was a thrill-seeker throughout her life. She had the most beautiful smile and will be remembered for her deep love for her family and friends.
Visitation will be Friday, Feb. 12, 2021, from 12:30 to 1:30 p.m. at Newcomer Kettering Chapel, 3940 Kettering Blvd., where her funeral service will follow at 1:30 p.m. Burial will follow at West Memory Gardens in Moraine.
The State of Ohio is under a mandatory mask order and has required that face masks be worn in all public places.