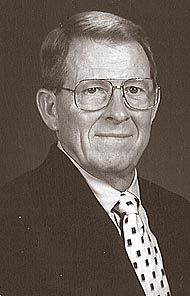 Roger "Lee" Johnston, longtime resident of Yellow Springs, died Feb. 3, 2021, at Friends Care Center. He was 87.
Lee was the youngest of five children born in a home just outside of Clifton on July 17, 1933, to Frank and Treva Johnston. The family moved to Yellow Springs on Valentine's Day, 1943. Lee was active in sports during his school years and would later referee soccer with Lee Morgan and eventually softball throughout the Dayton area.
Upon graduating from the old Bryan High School in 1953, Lee was drafted into the Army and served in Korea with the 24th Infantry Division until 1955. Lee and his good friend David Lamming, another drafted Yellow Springs resident, both made it back stateside safely and often reminisced about their service time together for years to come.
Soon after his return from military service, Lee married his loving wife, Mary, on March 14, 1959, at St. Mark's Lutheran Church, where Lee had been a member since 1958. Lee sat on church council and was the church facility manager as well as a cherished member of the congregation. Mary and Lee would have celebrated 62 years of marriage this March. They had two sons, Eric and Marc, who were raised in town. The Johnstons could often be found taking family vacations. Lee loved fishing and spent a great amount of time outdoors walking his dog Kane or working in the garden until the end of his life.
Like many growing up in the Depression era, Lee started working as a kid, at Furay's Drug Store, then the Pure Oil station. Over the course of his adult life, he worked as a Yellow Springs Police officer and at Vernay Laboratories, and owned the Sinclair station on the south end of town. He eventually sold the station to Bob Baldwin, who owned Village Ford, and Lee stayed on as service and parts manager. After the closure of Village Ford Motor Company, Lee was a foreman with Morris Bean and Co. He retired in 1990.
In "retirement," he worked part time at Deaton's Hardware and did odd jobs for many Yellow Springs residents, including becoming a caretaker and dear friend to resident Frank Kakoi, who preceded Lee in death.
Lee was Yellow Springs through and through and will be missed by his neighbors, friends, family and all those who he made smile with his contagious laughter. Lee was preceded in death by his parents and his siblings Eileen, Ruth, Bill and Marjorie. Lee is survived by his wife, Mary, still living at their home in Yellow Springs; son Marc and his wife, Kathleen, also of Yellow Springs; son Eric and his wife, Julia, of Portland, Ore.; and grandchildren Moriah, Danny, Kate, Mason, Kaden and Lida. A memorial service for Lee will be held June 5 at 11 a.m. at Glen Forest Cemetery with a military salute and a reception following.