Christina 'Tuffy' Ferguson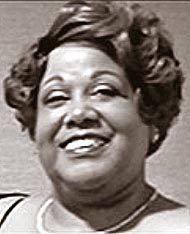 On Feb. 25, 2021, Christina "Tuffy" Ferguson returned to her heavenly home due to COVID-19.
She was preceded in death by her mother, Geraldine Garner. She is survived by her father, Albert Y. Garner; husband, Bryan Ferguson; sons, Gary Carroll II, Gerald Carroll and Gregory Carroll (Cristina); sisters, Linda Wright and Edwina Graham; brother, Albert "Geoff" Garner and a host of other relatives and friends.
A private viewing will be live-streamed on the evening of Thursday, March 11. Private graveside services will be held on Friday, March 12, at Lincoln Memorial Cemetery. Visit http://www.mcguire-services.com for live-streaming information.
Flowers and cards are appreciated and should be sent to McGuire Funeral Home, 7400 Georgia Ave. NW, Washington, DC 20012.