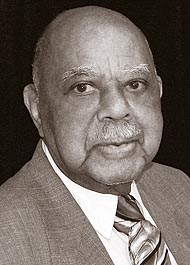 Scientist, inventor, visionary, musician, teacher, comedian, role model, mentor, husband, father, grandfather, brother, Peaches, Bert, Uncle, Sam, "Albert" — this was Dr. Albert Y. Garner.
His homegoing took place on March 8, 2021. He was 95.
He was born in Washington, D.C., on May 8, 1925, to Addie and Wilbert Garner. Albert was preceded in death by his parents, Addie and Wilbert Garner; his beloved wife of 71 years, Geraldine H. Garner; daughters, Adrienne R. Garner and Christina A. Ferguson; sisters and brothers.
He leaves his daughters, Linda G. (William) Wright and Edwina M. (Nathan) Graham; son, Albert G. (Cheryl) Garner; son-in-law, Otho B. Ferguson; grandchildren, Paul (Amy) Edgar, Gary Carroll, Gerald Carroll, Steven (Rachel) Garner, Gregory (Cristina) Carroll, Lindley Graham, Malcolm Graham and David Edgar; great-grandchildren, Isabella, Madelynn and Ethan; brother, Carter (Frances) Garner; and a host of relatives and friends who will all cherish the memory of his quiet, loving spirit.
He laid a firm, loving foundation for his family, community and future generations.
A virtual visitation will be held on Wednesday, March 24, 6–7:30 p.m., streaming from Henderson's Funeral Home in Springfield, Mass., followed by a virtual celebration of life on Thursday, March 25, 2021, 11:30 a.m. Go to http://www.hendersonsfh.com for details on the visitation and service. Interment will be at Veteran's Memorial Cemetery in Agawam, Mass.
Flowers may be sent to Henderson's Funeral Home, Springfield, Mass. Donations may be made in his honor to the Howard University Education Advancement Fund, Washington, D.C., Operation Smile, Hagerstown, Md., The United Negro College Fund or the NAACP National Legal Defense Fund.
To read the complete obituary, get details regarding services, or offer condolences, visit hendersonsfh.com.