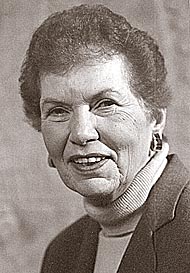 Drewry Estes Logan, of Hanover, N.H., died on Sunday, Feb. 28, 2021, at Kendal at Hanover, following a short illness. She was 94.
She was born Nov. 16, 1926, in Martinsville, Va., and raised on a tobacco farm in Cascade, Va. She was the daughter of Bettie Starling Estes and James Dabney Estes. She graduated from St. Mary's School in Raleigh, N.C., and was a music major at Converse College in Spartanburg, S.C. She received her bachelor's degree in music from Syracuse University. She was also a graduate student at the Indiana University School of Music (now the Jacobs School of Music).
She was married to Frank A. Logan on Sept. 8, 1956, in Danville, Va., From 1956 to 1962, they made their home in Hanover, where her husband was a Dartmouth College administrator. They moved to Yellow Springs, Ohio, and Antioch College in 1962, returning to Hanover in 1973 when her husband rejoined the Dartmouth administration.
An accomplished classical pianist, Mrs. Logan was a private piano instructor for over 40 years and was a strong supporter and advocate of classical music and the fine arts throughout her life. Prior to her marriage, she was a piano instructor at St. Catherine's School in Richmond, Va. and a staff member in the fine arts department of the Atlanta Public Library.
She was a member of the board of the Planned Parenthood of Northern New England, the coordinator of the Baker Library Bells at Dartmouth, a member of the Hanover Garden Club and the Women's International Club, president of The Friends of the Hopkins Center and Hood Museum at Dartmouth and a docent for 20 years at the Hood. In 2001, she was named the first recipient of the Hood Museum Volunteer Award. For many years, she was responsible for the weekly flower arrangements at the Hood's information desk.
In addition to her interests in music and fine arts, Mrs. Logan was an ardent gardener, an excellent cook and housekeeper, a faithful walker, a seasoned overseas traveler and one who believed strongly in high standards and hard work.
She was preceded in death by her parents and two older brothers, Thomas Starling Estes and James Dabney Estes II, both of whom died in childhood; and her sister, Betty Estes Traumann.
Survivors include her husband, of Hanover; their daughter, Nancy Fontaine Lowery, of Augusta Ga.; three grandchildren, Nila Logan, Naija Lowery and Ray Lowery; four great-grandchildren, Justin Logan, Kimba Jay, Jr., Nia Jay and Caden Jay; a nephew, Thomas Traumann, of Wilmington, Del.; and a niece, Ann Marsden, of Atlanta, Ga.
At Mrs. Logan's request, there will be no services. Following cremation, burial will take place at the family's convenience in Pine Knolls Cemetery in Hanover.
In lieu of flowers, the family suggests memorial contributions to the Hood Museum of Art, Attn: Gift Recording Office, 6066 Development Office, Hanover, NH 03755, or to a charity of one's choice.
To view an online memorial and/or send a message of condolence to the family, visit http://www.rand-wilson.com. Arrangements entrusted to Rand-Wilson Funeral Home in Hanover.