Juana Maria McKenna Gomez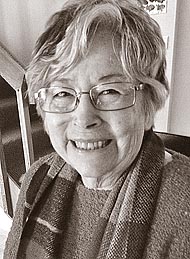 Juana Maria McKenna Gomez passed away peacefully on Thursday, Feb. 25, 2021, in her home, surrounded by family. She was 90 years old.
Juana — "Jennie" — was born in Middle Water, Texas, on Nov. 27, 1930, to William and Inez Lopez McKenna. Her father worked for the Santa Fe Railroad, so the story is told that she was born at home. As children, we believed that she was born in a caboose.
Jennie's family made their way to Wilmington, Calif., where she was the fifth of 13 children. She graduated from Banning High School and began to work as a bookkeeper for a dry cleaning company. She spent weekends going to dances with her friends and eventually met her future husband, Richard H. Gomez, and they married in August 1956 at Holy Family Catholic Church in Wilmington and lived in San Pedro. Before her children were born, she would make retreats with the Carmelite Sisters of Alhambra, which began a lifelong admiration for the Carmelites.
In 1958, Jennie had her first child, Georgiana. Soon to follow were Adriana and Gabriel. They all lived in a little house behind their paternal grandparents' home. Richard was called into active duty and became an officer in the United States Air Force, so they began their travels to Naha, Okinawa, where their fourth child, Bertrand, was born; Griffiss Air Force Base in Rome, N.Y.; and finally, Wright-Patterson AFB in Fairborn, where their fifth child, Marcella, was born.
Jennie was a "career mom," packing the best peanut butter and jelly sandwiches — the secret being that she would make them with frozen bread so that, by the time they had lunch, the bread was soft and fresh; driving her children to school if they missed the school bus; helping them with homework; supporting them by going to piano recitals, plays, baseball, softball and basketball games, band competitions, tennis matches; and just plain listening to her children with kindness, patience and love.
After her husband retired from the Air Force in 1978, the family moved back to San Pedro, Calif., to be near their extended family. As her children became young adults, Jennie followed her passion and began studying art at Harbor College in Wilmington and at Angel's Gate in San Pedro. She loved sketching and working with charcoal and watercolor. Jennie was a natural artist.
In 1986, Jennie and Richard bought a new home in a new community in Rancho Santa Margarita, Calif., where they lived for 20 years. During their time there, and at 60, Jennie joined the workforce and worked in medical records at Bristol Park Medical Group. She enjoyed this time in her life and continued working until she was 70 years old.
As years passed, three of their five children made their way back to Ohio, where life was much more peaceful than the frantic hustle and bustle of Los Angeles and Orange County. With encouragement, Jennie and Richard decided to move back to Ohio in 2007 to enjoy their grandchildren and the slower pace of country living.
Throughout her life, Jennie had a steady calm — a peaceful presence. Children and animals gravitated toward her. Jennie was strong in her faith and deeply spiritual. Her prayers were powerful. We often asked her to pray for us, and even pray for friends who needed spiritual help, and wonderful and miraculous things would happen. Jennie had an inner strength. She overcame health issues because of her prayerful life and her surrender to her Higher Power.
She was encouraged seven years ago to begin dialysis to help her failing kidneys and she gently told the doctors that she wanted to go the natural way. The doctors and nurses were devastated, but her children knew her power. Jennie's power of prayer gave all who loved her seven more years of laughter, quiet moments, celebrations and just having her beautiful presence in our lives.
Jennie is survived by her children: daughter Georgiana, and her spouse, Julie, and grandchildren Valerie, George and Savanna; daughter Adriana, and her husband, Jeffery Thomas, and grandchildren Tessa and Tiana; sons Gabriel and Bertrand; daughter Marcella, and her partner, Michael Thomas; daughter Jacquelene Hunt; brothers Pete and Albert McKenna; sisters-in-law Irene Mckenna, Alicia Jure and Olga Gomez; and brother-in-law Gilbert Gomez. Jennie has many nieces, nephews, cousins, and extended family and friends in Ohio, Oregon, Arizona, Maryland, New Mexico, Kansas, Mexico, Ireland and Scotland.
The family wishes to thank Vitas Healthcare for their special hospice nurses and staff who treated our Mom with compassion and tenderness during the most difficult part of her journey.
A memorial service and celebration of her life will be at a later date when all who wish to share this special time can do so safely.
Juana Maria McKenna Gomez will be laid to rest at St. Paul's Cemetery in Yellow Springs, Ohio.
Donations in memory of Juana Maria McKenna Gomez can be made to The Carmelite Sisters of The Most Sacred Heart of Los Angeles.