Robert Michael 'Mike' Triplett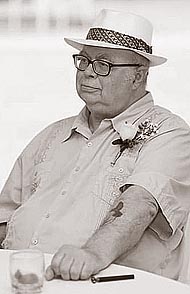 R. Michael Triplett died suddenly at home March 1, 2021. He was born Oct. 23, 1951, to Normal and Mildred Taylor Triplett in Dayton, Ohio. As there were several uncles and cousins named "Robert" and "Bob," he was known in the family as Michael — his wife, Thaddene Triplett, didn't even know his first name was "Robert" until several months after they started dating.
He grew up in Fairborn and graduated from Fairborn High School in 1969. He was a Millwright at Inland Manufacturing-GM — later Delphi Products — in Vandalia and a crane safety trainer until his retirement in 2001. He attended Wilmington College, then used his GM Education Benefit to attend Shimer College, a Great Books program in Mt. Carroll, Ill., where he and Thaddene met. He then attended Wright State University, where he earned his BA in social and industrial communications, minoring in classics, in 1991, and later earned his master's degree in human resources counseling. He pursued a course of study in pastoral ministry at University of Dayton with the goal of becoming a deacon. He even gave a try at nursing school.
He married Thaddene O'Connor at their home in Yellow Springs in 1979, and they raised four children here: Christopher David, Nicholas Michael, Claire Marie and Mary Frances. Mike was very close to his late brother, Dave, and his wife, Stephanie; their daughter, Katie, was another daughter to him.
Mike was a musician, playing guitar and later picking up the bass in the YS adult orchestra. He found a home in Glen Helen, becoming a birder, leading walks and hikes in the Glen and the Christmas Bird count for many years. He served on the boards of Glen Helen, The Antioch School, St. Paul Parish Council, the Session of First Presbyterian Church Yellow Springs and The Beloved Community Project. He also helped found the Yellow Springs Historical Society. He made a run for Miami Township trustee when the family moved out to the township. For some years, he taught religious education at St. Paul Catholic Church. He had a fine voice, singing with St. Paul music groups and the World House Choir.
He was a man of many interests and projects, reading and researching, building and wood turning; loving camping and visiting nature areas; and always seeking out a bookstore in whatever town he and Thaddene were in — their idea of a hot date was going out to a bookstore. Mike had an online used bookstore, which he was recently reviving. He had chickens and ducks, raising the babies from eggs, and he was a beekeeper, a gardener and a tree planter. He loved to show children things, sharing what he knew about nature and music. Most recently, he was starting an interest in boats and working on their motors. He was a believer in looking out for family, which extended to the human family. He had a care for justice, feeding people and helping them with education. If he saw a need, he worked to fill it.
Mike was preceded in death by his parents; a brother, David Triplett; and a sister, Lynda Triplett Roberts Clark. He leaves his wife, Thaddene Triplett MD; and lives on in his children, Christopher Triplett (Rachael Hawkey), Nicholas Triplett, Claire Godsey (Jared) and Mary Triplett and partner Joe Panuto. Also surviving are grandchildren Zaria Triplett, Ronan Triplett and Clara Godsey; and all the nieces, nephews, family, cousins and friends.
The family appreciates all the generous love of family, friends and community. Donations may be made to The Antioch School or Glen Helen in Mike's name.
Lead with love, folks.