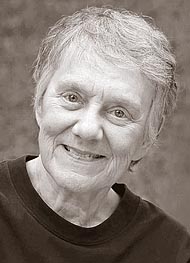 Charlotte Battino passed away peacefully in the company of family on Dec. 28, 2020, after more than 50 years in Yellow Springs. She was 84. She leaves behind a rich legacy of community involvement, including nearly four years on Village Council, where she guided the early greenbelt program. Upon her departure from Council, the late former News editor Don Wallis wrote, "Charlotte excelled at the job. She worked. She got hold of information, absorbed it, studied it, understood it, insisted that others pay attention to it, demanded that they work harder than they wanted to. She more than anyone else shaped an approach to village government that was — well, it was exhaustive, but it was also comprehensive, and that's rare, and it's good. Even when Ms. Battino voted in a way I didn't like, I knew she knew more about it than I did, and that she was, probably, right." Charlotte also served for many years on the Yellow Springs League of Women Voters, and as board member and finance chair for the Yellow Springs Unitarian Universalist Fellowship.
She especially enjoyed local theater, performing in numerous shows at Center Stage. Favorite roles included Ruth in "The Pirates of Penzance" (opposite Pirate King Bill Chappelle) and Eulalie Shinn in "The Music Man." She also sang in the Yellow Springs Community Chorus and Berkshire Choral Festival, performing in the Berkshires, New Mexico and Austria.
Charlotte was born in Gettysburg, Pa., to Bill and Ellie Ridinger on April 19, 1936. She earned a Bachelor of Arts degree in English at the Women's College of the University of North Carolina and was awarded a Phi Beta Kappa key. She continued to graduate studies at the University of Chicago on a Wilson Fellowship, where she met her husband Rubin. The couple moved to Yellow Springs in 1966. Charlotte subsequently completed a master's degree in urban planning at Wright State University and worked for 15 years at United Way of Dayton, serving as director of agency development.
She was a generous contributor to many area charities and organizations, supporting the Little Art Theater; Dayton Foundation; Cincinnati Shakespeare Company; Tecumseh Land Trust; YS Arts Council; YS Community Foundation; and Home, Inc.
Hiking was another lifelong passion, with 25 years of trekking through the Great Smoky Mountains and numerous hikes in Australia, New Zealand and Europe. Still, one of her family's fondest memories is of their annual Christmas Day walks in Yellow Springs with the Dixon family.
Survivors include her husband of 61 years, Rubin; sons David, of Folsom, Calif., and Benjamin, of Wausau, Wis., and their wives, Hazuki and Gillian; brother, Tom, and his wife, Lea, of New York, N.Y.; and eight grandchildren, Ellie, Toma, Lily, Anabel, Miaki, Asa, Abel and Ben Yisak.
The family plans to hold a celebration of life memorial in Yellow Springs when it's safe to gather again. In lieu of flowers, they suggest contributions to the Glen Helen Association, another of Charlotte's favorite charities.
They are grateful to friends and relatives for the sentiments they've shared, and to Hospice of Dayton for support during Charlotte's final weeks. Having time at home to talk, share memories and say "goodbye" helped them find peace during a transition that came far too soon. One evening as they gathered around Charlotte's bed, she proposed a toast. By that time, about the only thing she could eat was ice, so she suggested everyone crunch a cube and celebrate. "It's not about crying," she said. "It's about doing better and being together."
A deep, caring woman with extraordinarily high standards, Charlotte inspired all of us to do better. And in a sad, beautiful way, she brought us closer as well. To see photos and post remembrances, visit http://www.batmosphere.com/cb.