Kingsley Eugene Perry III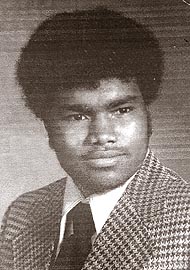 Kingsley Eugene Perry III departed this world on May 7, 2021, at home. He was born Jan. 5, 1959, to Kingsley E. Perry Jr, and the late Yvonne (Montgomery) Perry.
Kingsley was employed by Lowe's in Beavercreek, Ohio, for more than 15 years. He also worked for the Village of Yellow Springs for many years. Kingsley was an avid bowler and received several jackets and rings for bowling 300-point games. Kingsley enjoyed bowling with his son, Kingsley, and daughter, Kyoto.
Kingsley enjoyed going to his kids' sporting events when he was able to attend. As long as the games were not on his bowling night, he was there.
Kingsley enjoyed Thursday night football, especially when the Steelers were playing. Kingsley loved the Steelers. He was able to attend a Steelers game in Pittsburgh, which was the highlight of the football season for him.
Kingsley was preceded in death by his mother, Yvonne Perry. He leaves to cherish his memory, his wife of 27 years, Roberta (Upshaw) Perry; seven children, Maria (Benning) Leininger, Dorin Benning, Kingsley O' Neal Perry IV, Kyoto (Niki) Perry, Brandon (Webb) Frye, Natasha Y. Perry and Devon Eugene Perry. He has five grandchildren, Malaya, Knydall, Malik, Naomi and Lilly; a brother, Mark A. Perry, and a sister, Deneen Perry; one loving great aunt, Patricia Perry; and a nephew, Levi Perry. Kingsley also has a host of family in Maryland and several cousins in Yellow Springs. Kingsley had three very devoted caregivers named Bear, Sadie and Sassy Perry.
Since Kingsley loved the Pittsburgh Steelers, we encourage you to wear Steelers gear or just black and yellow.
Services for Kinsgley will be held Sunday, May 16, at Jackson Lytle & Lewis, beginning with a viewing at 1 p.m. until the time of service at 3 p.m. Services will be livestreamed on the Jackson Lytle & Lewis Facebook page.