Barbara Estelle Gilbert Bernstein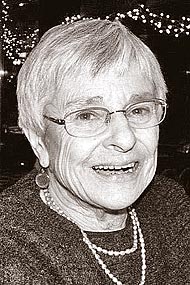 Barbara Estelle Gilbert Bernstein died peacefully at home in Greenfield, Mass., of congestive heart failure on May 31, 2021. Near her was her loving husband, Stanley. She was born in The Bronx, N.Y., to Hyman and Alice Gilbert and was raised in Queens.
Both of her parents were committed to social justice, thus Barbara learned lessons about humanity that she carried with her throughout her life. These included honoring all people regardless of their backgrounds, beliefs, race or who they love, and the belief in treating everyone with dignity and respect. She spent her life dedicated to civil rights, women's equality, anti-war movements, connecting with others and offering ever-expanding love to all.
Barbara graduated from Bayside High School in 1956 and then attended Oswego State Teachers College (now SUNY Oswego) in upstate New York. It was at Oswego State that many of her friends began referring to her as "Bobbe."
While home on spring break in 1957, she met the love of her life, Stanley Bernstein. They wed just before she graduated from Oswego in 1960. They shared over 61 years of marriage together, creating their own true love story filled with a commitment to justice, a love of singing and preparing many memorable dinner parties with their friends.
Barbara and Stanley moved to Ann Arbor, Mich., in 1960. Barb taught fifth grade and had their daughter, Lynn, in 1961. Later, they moved to Columbus, Ohio, where their son, Peter, was born in 1963. They then moved to Dayton, Ohio, and lived there for many years, where Barbara resumed her teaching career and dedicated her time to many social justice causes, including starting a local chapter of the Committee to Abolish the House Unamerican Activities Committee.
In 1969, she was named as one of the Dayton Daily News Top 10 Women of the year for her work in the community. In 1971, the Bernsteins moved to Yellow Springs, Ohio, where they spent the next 35 years. During her time as a Title I teacher in Yellow Springs, she became interested in why some children who were perfectly capable had trouble learning. She left teaching and went back to school at The Ohio State University, where she received a Master of Social Work degree in 1976. She eventually became a licensed independent social worker. Her career was spent as a mental health therapist, first in county agencies and, later on, in private practice. She was a founding member of Positive Perspectives, a counseling agency in Springfield, Ohio.
She worked with adult survivors of incest and was a certified grief counselor. She was deeply respected in her work and helped countless numbers of people through her clinical talents and gift of empathy. It was also in Yellow Springs that she and Stanley finished raising their family, sang in local choral groups, as well as in the Dayton Philharmonic Chorus, and became active in the Jewish community.
In 2009, she and Stanley moved to Greenfield, Mass., and naturally made immediate friends everywhere they went. Together with Stan, Barbara was active in the local food co-op, Temple Israel, and in Mak'hela, a Jewish choral group that sings both secular and religious music in many local venues.
Barbara was preceded in death by her beloved brother, Donald Gilbert. She is survived by her loving husband, Stanley Bernstein, of Greenfield, Mass.; daughter, Lynn Hansell and husband Seth Hansell, of Northfield, Mass.; son, Peter Bernstein and wife Donna Clifford, of Golden, Colo.; three loving grandchildren, Arwen Hansell, Emily Bernstein and Tyler Bernstein; sister-in-law, Judy Fischer, of Scarborough, Maine; and three nieces, Iris and Lisa Valanti and Lydia and husband Deno DiCiantis, of Pittsburgh, Penn.
All of us who were blessed to have known Barbara also know that her gift of love and connection will live on within us and will be passed forward for generations that follow. She was a mighty force who practiced kindness and acceptance along with a love of life and laughter. We miss her and will forever hold her in our hearts.
A celebration of life is being planned for a later date at the family's convenience. In lieu of flowers, donations may be sent in Barbara's name to the Refugee Support Project of Temple Israel, 27 Pierce St., Greenfield, MA 01301.
McCarthy Funeral Homes of Greenfield and Turners Falls, Mass., are entrusted with Barbara's care and arrangements. Guest book available at http://www.mccarthyfuneralhomes.com.