Francis 'Fritz' Xavier Leighty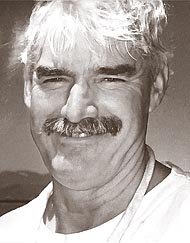 Francis "Fritz" Xavier Leighty passed away peacefully at home on June 20, 2021. At his side was his loving wife of 60 years, Judy. He was born in 1941 near St. Louis in the Mississippi River town of Alton, Ill., to parents George and Mary (Lowe) Leighty.
Fritz and Judy met in kindergarten and graduated together from Marquette Catholic High School. Fritz excelled as a student-athlete and attended Illinois State University, where, in addition to marrying Judy, he played football and earned a bachelor's degree in social science and education. While at ISU, Fritz was inducted into the Kappa Delta Pi and the Pi Gamma Mu honor societies. He received the R. G. Brown Award for maintaining the highest GPA among varsity athletes at ISU and the IIAC Medal as the varsity athlete with the highest GPA in the entire conference.
After graduating with honors, and with a growing family, Fritz decided to forego his plans to become a teacher and instead accepted a scholarship to attend graduate school at Washington University in St. Louis, where he earned a master's degree in economics.
Fritz's professional career of 50 years in urban planning began in Chicago at the U.S. Department of Housing and Urban Development, or HUD, and continued with the City of Columbus, Ohio, as assistant director of community development. It was at that time that Fritz and Judy discovered Yellow Springs through friends, and in 1970 they decided to permanently settle in the village to raise their family. He accepted a position at Woolpert Engineering in Dayton and launched an urban planning department for the firm.
In 1990, Fritz started his own consulting company, which provided urban planning services to small cities and rural towns across Ohio, West Virginia and Indiana. His contributions made possible hundreds of vital economic development projects that made long-lasting impacts for local communities.
Fritz had a diverse array of interests in his personal life. He participated in numerous theatrical productions in college and in community theater, and had a great interest in history, particularly the Civil War. Fritz was devout in his support of various causes, such as support for civil rights and opposition to the Vietnam War. As empty nesters, Fritz and Judy became avid cyclists who enjoyed excursions across North America and as far away as New Zealand. He also had a lifelong love of sports of all kinds, especially those in which his children and grandchildren participated.
But Fritz's greatest passion was service to the community, which was where he devoted much of his energy. In 1970, a group of men in Yellow Springs decided to start a youth football team and asked Fritz to be its first coach. He'd had a successful college career and played with the Northwest Travelers, a feeder team for the Chicago Bears, and also with the Dayton Colts. This was the birth of football in Yellow Springs and the beginning of Fritz's 35 years coaching high school and middle school teams — all of them as an unpaid volunteer.
Fritz trained to be a teacher and that is how he approached coaching. He influenced hundreds of young men growing up in Yellow Springs over several generations and took great pride in teaching them fundamentals such as preparation, teamwork and resiliency — all skills they could also apply in their academic and personal lives long after their football careers ended.
Fritz was preceded in death by his parents; brothers, Michael and Charles; aunts, Helen Lowe and Ruth Dubblede; and uncle, Holger Dubblede. He is survived by his wife, Judy; children, Lisa (Jerome) Crosswhite, Scott (Maureen) and Chris; grandchildren, Brian (Tahlia) Crosswhite, Schelle Crosswhite, Kiara Leighty and Kathryn Leighty; as well as his great-grandchildren, Aaliyah and Daylen Switzer and Briauna and Nadiya Crosswhite. He is also survived by his brother, Sam Leighty; and sister, Elizabeth Conner, and her son Charles Troester.
The many lives touched by Fritz know of his generosity and loyalty to others, regardless of their station in life. He was a champion of the underdog — which helps explain his many years as a Bengals fan — who accepted and respected others for who they are and was always ready to lend support when needed. These are gifts he gave to so many and that will be paid forward to future generations.
In keeping with his many years of service to the community, Fritz donated his body to Wright State School of Medicine to support preparation of the next generation of physicians. To honor his wishes, the family plans a memorial celebration of his life on July 31, from 4 to 8 p.m., at John Bryan Community Center, located at 100 Dayton St. in Yellow Springs.