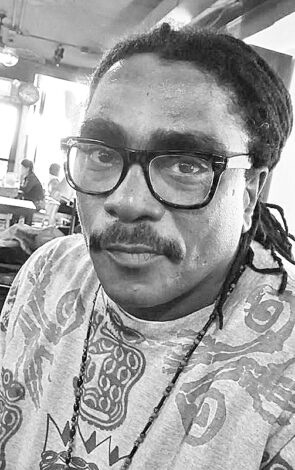 Kumasi Hampton passed away on May 29, 2021, at his home in Springfield, Ohio. He was born May 30, 1955, in Sacramento, Calif., the son of Rudolph and Pinna (Gatewood) Hampton.
After his family returned to Ohio, Kumasi grew up in Springfield, where he graduated from South High School. He did his undergraduate studies at Howard University and Ohio State University, later completing a master's degree in art history at the University of Cincinnati. Kumasi remained in Cincinnati for some time, where he worked as professor and faculty adviser in the College of Undergraduate Studies at the Union Institute. During this period, he also worked as a curator and art dealer.
In 2000, Kumasi curated a groundbreaking exhibit of African American painting, sculpture, prints and photography at the Taft Museum titled "The Great Migration: The Evolution of African American Art, 1790–1945." The exhibition was accompanied by the publication of an insightful catalogue for which Kumasi compiled and organized material as well as wrote the critical essay.
Later, Kumasi moved to San Francisco, where he continued his work in the arts and also became a student of Buddhism and a practitioner of Vipassana meditation. After returning to Springfield in order to assist his parents, Kumasi earned his certification in social work. Most recently, he was working as a mentor for youth at risk as a peer recovery support specialist with the Eastway Behavioral Healthcare Center in Dayton.
Kumasi was a familiar figure in Yellow Springs, where he had many friends and practiced meditation with the Yellow Springs Dharma Center. His warmth, wit, incisive intellect and compassion were greatly appreciated by all who knew him well. Kumasi is survived by his sister Rudayus Hampton of Atlanta, and a host of relatives and friends. He will be honored with an informal ceremony of remembrance to be held in the Garden of the Yellow Springs Dharma Center at 9:30 a.m. on Sunday, July 18.
All who knew Kumasi are welcome to attend.