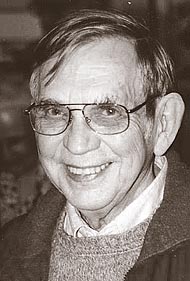 Ray was born on June 2, 1930, in Pittsfield, Mass., the sixth and youngest child. His family had come from Osmolice, Poland, in 1910 to work as technicians in the Massachusetts textile mills. Later, they moved to Boston and then Manhattan, where his father worked as a watchmaker.
He grew up in what was then called Yorkville, on the Upper East Side of Manhattan: a busy immigrant neighborhood. He spoke no English until beginning school, but excelled there.
New York City in the '40s was a grand place for high culture, if you had access and opportunity: he used to put on his Sunday suit, head off towards the Metropolitan Museum of Art, and be chased all the way there by the local kids. He'd spend the day looking and learning, and then be chased all the way home. His plunking on a piano at a youth club attracted the attention of a visitor, the wife of a symphonic musician, who took him to concerts and gave him piano lessons. He never forgot her kindness, her belief in his potential, or the world of music and artistic seriousness she had exposed him to.
At the same time, he carried on training in the family tradition of fine handcrafting: he made model airplanes and sailboats in his father's workshop, and tested them out in Central Park.
He attended the Bronx High School of Science for a year, before his father died and the family moved to New Jersey. There, he played the flute in the high school band. On his graduation, his older sister offered him the opportunity to go to the University of Michigan for a year: subsequently, he paid his own way through college as a waiter and short-order cook. He was a member of Phi Beta Kappa.
On graduation from college, he was inducted into the Army, into the Korean conflict: he served two years in Yokohama, Japan, as an airplane mechanic.
After the army, he worked for a time as one of the first FORTRAN programmers, before going back to the University of Michigan as a graduate student in mathematics. This was where he met his future wife, Nancy Kennedy, a doctoral candidate in linguistics, through mutual friends. They bonded over a shared love for early music.
In January 1962, they married, and moved to Champaign, Ill., where Ray taught at the University of Illinois and Nancy worked on her dissertation. Their first child, Ann, was born there in 1965.
Shortly thereafter, they moved to Ohio, where Ray had obtained a teaching position at the fledgling Wright State University. Their second child, Amy, was born during a short stay in Fairborn, but they moved to Yellow Springs, and the house they would live in for the next 50 years, in 1969.
Always a skilled woodworker, in the early 1970s Ray began restoring a violin that had belonged to his father. His endless capacity for new interests led him to the work of Carleen Hutchins, a pioneering scientific researcher into the acoustics of violins. Her work led him to try making an instrument of his own, which he did, successfully. Over the years, he also made two cellos for the cellists in his life, his wife, Nancy, and his daughter Ann, as well as a guitar for his daughter Amy. He took up the violin himself, to better understand the instrument, and enjoyed playing string trios and quartets with other local musicians.
He launched his business, The Violin Doctor, in 1975, and in that role became familiar to many in the area as a violin and bow repairer and restorer, and a provider of strings and other supplies.
He continued his teaching at Wright State, but retired in the late 1980s. After retirement, he began painting and studied painting seriously, joining the Dayton Society of Painters and Sculptors — now the Dayton Society of Artists — serving as their president from 2001 to 2004. He spent many happy hours there in classes, at presentations and in discussion with other artists and craftsmen.
His bedtime reading, for many decades, was Boswell's "Life of Samuel Johnson," which he read over and over. In 2001, he fulfilled a lifetime ambition and, with Nancy, visited London and Paris, touring museums and seeing the settings of many of his favorite paintings. They visited many North American locations as well. Ray could never go too long without seeing the ocean, and he made many paintings of water and boats.
He passed away from congestive heart failure on June 25, 2021, shortly after his 91st birthday, with his family by his side, holding his hands.
He bequeathed to his loved ones his focus on excellence, especially in artistic and intellectual efforts. He believed in going the extra mile to do something the best way you knew how, in taking your own work seriously, and in continually pushing yourself beyond your current skill level.
He will be remembered for his ready sense of humor, his willingness to laugh at himself, his excellent cooking, his gift for instruction, his knowledge over a vast range of subjects and his ability to take an interest in anything and anybody. Many are familiar, as well, with his kindness and generosity.
He is survived by his wife of nearly 60 years, Nancy; and his daughters, Ann and Amy; as well as his sister, Stefania; and many nieces and nephews.