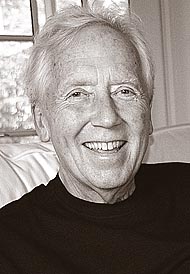 Barry Heermann died in his home in Yellow Springs, Ohio, on Saturday, Aug. 14, 2021. He took his last breath in the arms of his loving wife, Kipra. Barry had Parkinson's disease, but it did not get the best of him. We did.
In his 30s, shortly after his beloved mother's death, Barry had a mystical experience. It left him feeling at one with everyone and everything in the universe and confident in the essential goodness of life's unfoldment. That experience inspired him to help others find greater passion, purpose and fulfillment in their lives.
Professionally, Barry was an educator, organizational development consultant and author of seven books. He trained over 450 senior executives around the world to develop enthusiastic, high-performance teams. He worked with hundreds of churches, schools and higher education institutions to help their leaders ignite greater passion for life and work in their constituents. In his early years, he led a program at Sinclair College that became a national model for adult experiential learning.
If you knew Barry Heermann, he loved you. That was his greatest gift. He recognized, affirmed and celebrated the goodness and special qualities of everyone in his life. He listened with compassion, nonjudgment and encouragement to the myriad people who confided in him. He laughed a lot. He loved cars and jazz, too, but he was in love with humanity.
Barry was a deeply spiritual man. He engaged in personal retreats, meditation, contemplation and journaling for decades. He drew his personal theology and philosophy from a wide variety of religious and spiritual traditions. He regarded his Parkinson's disease as an opportunity for spiritual growth and an ever-closer relationship with the Divine.
Barry was born in Dayton, Ohio, on Feb. 27, 1944, and resided in both Yellow Springs and Monterey, Calif. He was devoted to his family and he modeled how to live a happy life with the knowledge that everything is happening as it should. Barry is survived by Kipra, his wife of 30 years; his daughters, Jennifer and Tamar; his son, Dustin; his granddaughters, Olivia and Corinne; and four nieces.
An outdoor memorial service will be held for our dear and remarkable loved one on Saturday, Sept. 25, 2021, at 2 p.m. at the Rockford Chapel, located on the Antioch College campus at 515 N. President St. in Yellow Springs. The public is welcome.
A second service is being planned at All Saints Episcopal Church in Carmel, Calif.
In lieu of flowers, donations may be made to YS Home, Inc. at yshome.weebly.com/donate.html.