"For me, Antioch was marvelous. I was among other young people with whom I felt I belonged. In high school I had felt as somewhat of an outsider, but Antioch was where I belonged."
—Carlton Wheeler, Antioch College class of 1950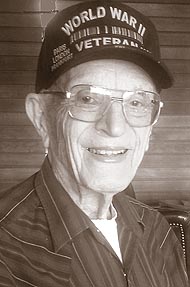 Born June 14, 1923, in Elmira Heights, N.Y., to Margaret and Irvine Wheeler, Carlton graduated from Elmira's Thomas A. Edison High school in 1941. He subsequently worked as a machinist before briefly attending Illinois Institute of Technology in Chicago, then transferred to Antioch College in Ohio in August 1942.
As was the case for many college men during the war years, Carlton's studies were interrupted by military service. He enrolled in the U.S. Army and was assigned to the Transportation Corps, shipping out from New York City to Britain on the Queen Elizabeth, arriving in Scotland on D-Day, June 6, 1944. His assignment venues included London, Paris and Frankfurt.
Carlton returned stateside in 1946 and resumed chemistry studies at Antioch College. After graduation in 1950, Carlton worked at Dicks-Pontius — now DAP — in Dayton, married Anne Wilson (class of 1952), and in 1957, started a plastics manufacturing company, Interex, in Puerto Rico. He and his family moved to Massachusetts in 1966. He returned to Puerto Rico around 1972. In 1991, he retired to Redmond, Ore., where he spent much of his time lathe-turning rare woods into pepper grinders.
Carlton passed on Aug. 7, 2021. He is survived by his three adult children, Scott (class of 1974), David and Elizabeth; four grandchildren, Augusto, Louie, Joan and Catherine; and Augusto's daughter, Gitana.