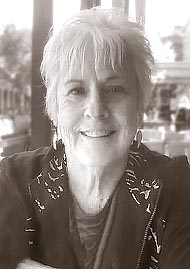 We are approaching the first anniversary of Evelyn Gray's passing on Nov. 3, 2020. The family will be hosting a celebration of life in honor of Evelyn on Oct. 2, 2021, at 1 p.m. at Vernet Ecological Center, located at 405 Corry St. in Yellow Springs.
Evelyn was born on April 9, 1950, in H. S. Naval Hospital in Portsmouth, Va. She spent most of her childhood living wherever her family was stationed; from sunny Trinidad and Tobago and Key West, Fla., to stations in Ohio, Missouri and Virginia.
Evelyn graduated from Antioch College with a B.A. in biology. Following her life's passion for childbirth, she continued her education in El Paso, Texas, becoming a midwife. She leveraged her knowledge of Spanish and delivered 300 babies during her career. She later was an entrepreneur and successfully entered into the real estate market with her company, Springs Realty, partnering with her best friend, Christine Kristensen. Afterward, she became co-owner of Tom's Market in support of her husband's dream.
Evelyn was passionate about politics, human rights and social justice issues. She never hesitated to give her time or money to champion important causes, especially those involving the well-being of children and women.
She was a kind, loving and gentle soul. She loved spending time with her family. One of her favorite pastimes was playing travel agent and exploring beautiful places. She and Tom would find gorgeous beaches, and many times, share these special places with their family, where many wonderful memories will be kept in their hearts forever.
Evelyn loved spending time with her husband, Tom, and their dear friends. Together, they enjoyed traveling, sitting by the bonfire or in a hot tub, reminiscing about old times and playing cards. She had a great sense of humor and was always fun to be around. Her creativity found her quilting, in the garden and appreciating nature. Her Mexican-trained cooking was legendary among her family and friends, especially loved for its authentic, festive and rich flavors. Her cooking had become a staple at Tom's Market as well, where many seasonal offerings sold out quickly and with great celebrity.
Among her other interests, she loved to bird and deer watch out on the farm. She treasured her peaceful walks with her boxer companion, Lucy. She had many boxers over the years and it was clear they were always a special part of the family.
Evelyn was preceded in death by her father, Wesley Sizemore, and brother, Wesley Sizemore II. She is survived by her spouse, Tom Gray; mother, Dolores Sizemore; brother and sister-in-law, Wayne and Kay Sizemore; daughter and son-in-law, Dinah and Mark Tolley; son and daughter-in-law, Victor and Heather Garcia; sons Jeffrey and Kelly Gray; grandsons, Alexander and Alan Tolley; granddaughters, Anna, Kelsey, and Shelby Parthun; and great-granddaughter, Layla-Rose Sleeman.
Evelyn is sorely missed by her family and friends, who loved her deeply and enjoyed her love, humor and friendship. We hope you will join us on Oct. 2. Contributions in Evelyn's memory may be made at http://www.goboxerrescue.com.