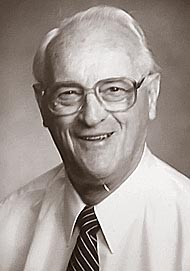 Harold (Grinnie) Grinnell Jr., passed away quietly on Oct. 10, 2021, after a brief period of declining health. He was 97.
He was preceded in death by his parents, Harold (Shorty) and Alma Grinnell; his sister, Mary Grinnell Charles; his brother, Marion (Buddy) Grinnell; his grandson, Mathew Grinnell; his step-grandson, Matthew Fraver; and his first wife and mother of his two sons, Chettie Jones Grinnell Winter.
He is survived by his second wife of 45 years, Jody Holmes Fraver Grinnell, of Kettering; his two sons, Alan (Shari) Grinnell, of Fond du Lac, Wis., and Steven (Mary) Grinnell, of Richland/Gull Lake, Mich.; and his stepchildren, Norman (Suellen) Fraver, of Bellbrook, Joyce (Mark) Fraver Kleinke, of Hickory, N.C., and Rob (Polly) Fraver, of Fairborn. He is also survived by 12 grandchildren and eight great-grandchildren.
A proud Marine and veteran of WWII, Grinnie graduated from Bryan High School in 1942 and, soon after, enlisted in the Marines, serving in the South Pacific. He was honorably discharged in December 1945.
Grinnie leaves a lasting legacy of a tremendous work ethic, working full time until he was close to 80 years old. In addition, "Coach Grinnie," alongside Harold (Coffey) Coffman and Don Perry, impacted a generation of Yellow Springs young boys' lives, teaching them the fundamentals of baseball in Little League at the Mills Lawn baseball diamond during the 1950s–60s. In addition, he coached YS teams to summer Tri-County League Championships during their teen years.
He will be missed by his family, friends and many of his players.
Cremation has taken place and a celebration of his life will be scheduled at a later date. Condolences can be sent to the family by signing the Guestbook at
http://www.routsong.com.