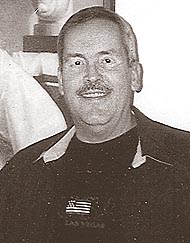 March 28, 1948–Dec. 19, 2020
Timothy Frederick Hewes was born in New York City, the second child and only son of Anabel and Alanson Hewes.
In November 1956, Alanson died and the Hewes family moved to Cincinnati and then Kent, Ohio. The following November, Anabel died, and Tim and his sister, Anna, were placed in the foster home of Bud and Sue Hogarty. After a move from Kent to Fairmont, W.V., in March of 1962, Tim and Anna were officially adopted by Bud and Sue.
Another move to Yellow Springs, Ohio, occurred when Bud got a job in the Co-op Department of Antioch College. Tim graduated from YS High School in 1966 and attended Hiram College before joining the U.S. Army in the fall of 1968. Honorably discharged in 1971, Tim began his professional career at Lyman Chevrolet in Kent. Later he worked at Ray Thomas Chrysler/Plymouth in Akron, Ohio. He then switched from car dealerships to banking.
In about 1997, Tim relocated to Jacksonville, Fla., where he finally retired from the Bank of America in 2009.
After a short but intense losing battle, he succumbed to cancer.
Those are the general facts of Tim's life. Here are some fun facts.
As a youngster, Tim learned to play pool at the Kips Bay Boys Club located nearby his apartment. He roamed Central Park with his sister, Anna, and occasionally swam with some friends in the East River — much to her dismay. Alanson had taught him to play chess at an early age, a game he really enjoyed. Bud had taught him to play cribbage, another game he enjoyed. Tim was an avid fisherman and swimmer — both were skills he accentuated as a teenager while spending summers on Eels Lake in northern Ontario, Canada, visiting his grandparents. Another interest was history, especially the Civil War and WWII. He was knowledgeable in both those areas and probably could have taught those subjects.
He was preceded in death by Anabel and Alanson Hewes; Bud Hogarty and Sue Seely; his stepfather, Gilbert Seely; and grandparents Irene and Harlan Hungerford. Left to cherish his memory are his sisters, Anna and Ellen Hogarty and Dawna Seely; brothers, John Nick Hogarty, David (Mary), Edward (Lisa) and Mark Seely; nieces and nephews, John Nick, Jr., Stephanie Monroe, Elisabeth, Joseph, Kaleigh, Kyle and Connor Seely and Timothy Ranieri; and stepmother, Pam Hogarty. Many other family members and countless friends and former coworkers will miss Tim's wonderful sense of humor and talent in storytelling.
A remembrance celebration is to be held in the future when we can all gather safely. At the family's request, contributions may be made in Tim's name to Glen Helen Nature Preserve in Yellow Springs or your favorite charity.