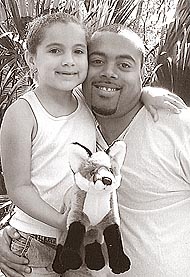 Brian Carlos Robles passed away on Jan. 21, 22. He was born in New York City on July 15, 1978, to his mother, Carol Robles, and his father, Carlos Robles.
Brian moved to Yellow Springs in 1979. He attended Yellow Springs schools and moved to Safety Harbor, Fla., when he was 19 years old. He was employed by Gale Healthcare as a senior staffing coordinator for the last seven years.
He is survived by his mother, Carol Speakman, of Springfield; his daughter, Brea Robles, of Largo, Fla.; cousins, Leslie White, of Fairborn, Mikasa Simms, of Yellow Springs, Cindy, Amber, Amaris and Ariella Dros, of Cressona, Pa., Bryce White, of Washington D.C., and Jordan White, of Fairborn; uncles, Gerald Simms, of Fairborn, and Mark Berkley, of Charlotte, N.C.; stepfather, Scot Speakman, of Yellow Springs; and best friends, John Lee, Josh Dunn, Tim Wills and Jovan King.
We all love and miss him.