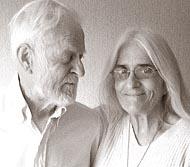 Doris E. Rowland, 89, of Peoria, Ill., passed peacefully on Jan. 9, 2022, after a remarkable life.
Doris was born April 8, 1932, in Lansing, Mich., to John and Addie May Watson, who preceded her in death. She married her loving husband, Thomas S. Rowland, on Nov. 27, 1957, in California. He preceded her in death on Jan. 24, 2016.
Doris grew up on the shores of Lake Huron and once saved a young, red-headed neighbor from drowning when he fell into a submerged well. She was independent and strong-minded, putting herself through the first two years of college and eventually graduating summa cum laude with a degree in philosophy. She loved to swim, write, and walk in the woods, where she took beautiful photos throughout her life.
Tom was born in Lexington, Ky., to Lester and Mary Rowland on April 2, 1925. He was a good storyteller with a wry sense of humor who fondly recalled growing up on the family farm. He was a teacher at heart, whether calmly explaining algebra or the best way to shift gears. After serving during World War II, Tom taught for a few years and then began working at NASA as a mathematician. He loved folk dancing, reading and eating Indian food.
Doris and Tom met at an international folk dance and soon became inseparable. Tom realized he wanted to marry Doris as he watched her admiring a flower, dark hair glistening in the sun. A few days later, she sat across from him in the black light of a pizza parlor. Tom was reciting nursery rhymes, his white shirt glowing purple. At that moment, she knew she wanted to make a life with this gentle, funny man.
They bought a small farm in Ohio, where they raised their children and a variety of animals, including sheep, goats, pigs, chickens and guinea fowl. They took several long camping trips in the U.S. and Europe, pitching their big, green canvas tent beside lakes and at the feet of mountains. Fond family memories include taking countless hikes, digging for agates, exploring tidepools and often stopping for ice cream at 10 a.m.
Doris was quick-thinking and energetic, once expertly managing to slow the car while careening down a German mountain after the brakes failed. Tom was patient and steady, helping Doris with whatever project was at hand. Together, they planted hundreds of trees and turned a barren Ohio farm into a lush wildlife refuge. In retirement, they traveled to Alaska and New Zealand and built a beautiful rock wall around the garden of the home that Doris designed. Together, they taught their children to care for nature, seek adventure, work hard and strive to make the world a better place.
They are survived by their children, Cheryl and Andrew Shull, of Washington, Ill., John and Lenae Rowland, of Texas, and Sherman and Wendy Rowland, of Massachusetts; and their four grandchildren, Warren, Greta, Somaiya and Taylahna.
Doris was preceded in death by her loving husband of 58 years, Tom; her parents; sisters, Dorothy Lock and Donna Kerr; and nephew, Harry Kerr Jr. Tom was preceded in death by his parents and sister, Julia Breninger, with his youngest sister, Eliza Bubb, passing away in 2019.
A celebration of life will be planned for a future date. Memorial contributions may be made to The Nature Conservancy.