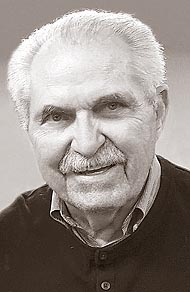 Donald E. Lewis passed away on Thursday, Feb. 24, 2022, at the Springfield Masonic Community. He was born at home in Yellow Springs, Ohio, on Sept. 14, 1943, to the late R.H. (Red) Lewis and Claris (Alspaugh) Lewis.
Donald began operating heavy equipment for his father's excavating business by the age of 15, and continued until the time he retired. He served his country in the United States Army, having been stationed overseas. For more than 50 years, he was a member of the Yellow Springs Masonic Lodge #421, where he served in numerous capacities, including Past Master.
Along with serving as the District Deputy Grand Master of the Eighth District, Donald was also a member of the Antioch Shriners. He was known for his knowledge of the Masonic Lodge, as well as his willingness to offer assistance to anyone in need. He was also a member of the International Union of Operating Engineers #18 for more than 50 years, as well as being a Kentucky Colonel.
Donald was preceded in death by his parents and his brother, Ronald Lee Lewis. He is survived by his sister, Norma G. Lewis; son, Travis (Jenifer) Lewis; Kori (Jared) Whittaker; grandson, Devon Lewis; lifelong friend, Gene Wyen; and ex-wife, Melodi Lewis. He also leaves behind a host of nieces, nephews, great-nieces, great-nephews, cousins and friends. He is sadly mourned by his dog-niece, Precious, whom he loved dearly.
A viewing will be held on Saturday, March 5, 10 a.m.–1:30 p.m., at the Jackson Lytle and Lewis Funeral Home in Yellow Springs with Masonic services to follow, beginning at 1:30 p.m. Interment will be in the Glen Forest Cemetery, Yellow Springs, at a later date, with military honors. In lieu of flowers, memorial contributions may be made to the Alzheimer's Association in Donald's honor.
Online expressions of sympathy may be left for the family by visiting http://www.jacksonlytle.com.