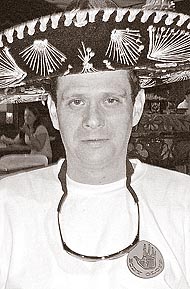 Keith Robert Greiffenhagen, a longtime resident of Yellow Springs, was born on Nov. 17, 1964, and passed away on Feb. 21, 2022, after a tragic accident.
Keith was formerly an employee of the Friends Care Center, working as a custodian there for many years. More recently he worked odd jobs in Yellow Springs and as a sign spinner for his niece during tax season in Springfield, donning a hilarious Statue of Liberty outfit for the gig. He was a familiar face around town, always bicycling or walking to his destination.
Keith was uniquely Keith — he had a droll sense of humor and a quick wit, with many "Keith-isms" to sprinkle into conversation ("Strength and honor!"). He loved adventuring in the great outdoors with his family and his best friend, Les. Paddling, biking, camping or just trundling along, he was happiest outside. For many years he volunteered to remove invasive species and maintain trails in Glen Helen working with George Bieri and crew. He enjoyed spending time with friends watching movies, cracking jokes, hanging out around the campfire, and he loved a good Mexican meal.
Keith was preceded in death by his parents, Wolf and Marilyn Greiffenhagen; and his younger brother, Scott. He is survived by his brother, Erik Greiffenhagen (Linda), of Springfield; his sister, Kimberly Schlenker (Robert) of Bozeman, Mont.; and his longtime best friend, Leslie Groby, of Yellow Springs.
No services are planned at this time. Should you like to honor Keith's memory, the family suggests a donation to the Glen Helen Association or the Yellow Springs food bank.
Keith would have left the world with one of his famous parting statements: "Thank you, drive through!"