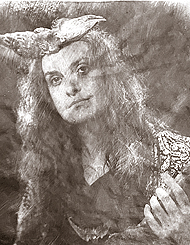 Marilyn Jayne Van Eaton was born on Jan. 17, 1943, at OSU Hospital. She departed peacefully on March 8, 2022 — International Women's Day.
Laid to rest in the Glen Forest Natural Burial Cemetery, Marilyn lived an exquisite existence as an Amazon woman, ahead of her time, standing six feet tall for most of her life. She was an extremely gifted artist in a military family. A voracious reader and passionate social and peace activist, she was an outspoken feminist, a truth-seeker, an avid gardener and — most importantly — a lover of cats!
One of our mother's greatest contributions to her community, friends and family was her deep belief and encouragement of being true to oneself. Mom was an excellent listener and a great storyteller. Her true talent was that she always knew how to help people feel better. She did this up until her last breath and beyond. Her guidance in helping find truth and enlightenment will continue always.
Marilyn studied fine art at George Washington University. She spent much of her life in Washington D.C., Germany, the Philippines and too many other places to name. Many remember her as a jewelry designer. Her beadwork was sold at the Chicago Art Institute, the Peabody Museum at Harvard, Fred Segal's in California, Georgetown Cotton in DC, Nordstrom's department stores, numerous art shows coast-to-coast, as well as Ohio Silver and Rita Caz locally.
She leaves behind two adoring daughters, Mysara Wujnovich and Zo Van Eaton-Meister; grandchildren, Milan and Alexandra Wujnovich and Jane, Sven, Nicky and Kate Meister; and sons-in-law Mike Wujnovich and Dave Meister. Two sisters, Melanie Joy Taylor and Jeanie Charfen, preceded her in death, as did her mother, Mary Jane Van Eaton, and her dad, John Harper Van Eaton. Marilyn was the oldest of four daughters, survived only by her youngest sister, Michele (Ron) Bauer, of Centerville. She cared deeply for her many nieces and nephews.
A celebration of life is planned for this summer; stay tuned for further details. Any and all charitable donations are greatly appreciated and can be made directly to the LGBTQ Freedom Fund and the Gesundheit Institute in her memory. Her beauty touched many and she will be missed by all of her dear friends coast-to-coast and in the re-evaluation counseling community.