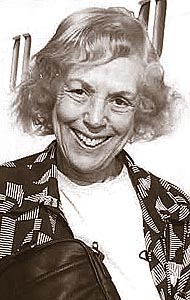 Viola Elaine Nutt, who answered to "Elaine Nutt," transitioned peacefully in her home on March 2, 2022, in Ann Arbor, Mich. She was 90 years old.
Battling ALS since 2017, Elaine put up a good fight and brought much awareness about this horrible disease to her friends and family. ALS, or amyotrophic lateral sclerosis, is a progressive neurodegenerative disease that affects nerve cells in the brain and the spinal cord. It was formerly known as Lou Gehrig's disease.
Elaine was born to Viola Mae (Shadd) Henderson and William "Bill" Avery Henderson on Sept. 3, 1931, in Buxton, Canada, and she was one of three children. The family migrated to Ann Arbor, Mich., where Elaine's parents purchased a home one block from "The Big House" — the famed University of Michigan football stadium. Elaine grew up in the home after the depression and passed away in the family home 70 years later.
Elaine graduated from Pioneer High School and was accepted as an undergraduate student at the University of Michigan. She also attended Eastern Michigan University before marriage. After meeting Ambrose Benjamin Nutt in Ann Arbor, she married him in 1951, and the two moved to Ohio, where Ambrose worked as an aeronautical engineer at Wright-Patterson Air Force Base and where Elaine completed her undergraduate and graduate studies. Elaine received a Bachelor of Arts degree in education from Central State University in Wilberforce, Ohio. After completing her undergraduate degree, she was licensed as a teacher and worked with mentally challenged children from the 1950s through the early 1970s in the Dayton Public Schools and in Springfield, Ohio. On March 20, 1974, Elaine earned a Master of Education degree with a major in curriculum and supervision-elementary from Wright State University, where she had attended night classes with her two small girls in tow while working full time. She was promoted to supervisor of Springfield City Schools and continued in this capacity through her early retirement in or around 1980.
Elaine and Ambrose raised two girls in Yellow Springs on Omar Circle. Both daughters, Sandra Maria Nutt and Jacqueline Alma Teepen, currently reside in California. The girls grew up in Yellow Springs from birth until Elaine and Ambrose relocated to Dayton to a home on five acres of land — Elaine's dream home. Elaine wanted enough land to board the family's horse. But the land was "too pretty," so the family maintained a manicured lawn instead, and boarded the horses around the corner!
Elaine is survived by her younger brother, Career Major General William Henderson, a resident of Ypsilanti, Mich.; both of her daughters, Sandy and Jackie; six grandchildren, William Tyler Teepen, Kristen Atwood, Brandon Benjamin Thomas Teepen, Jacob Reid Teepen, Taylor Anne Teepen and Terriana Teepen; and two great-grandchildren, Maddox Atwood and Naya Teepen. At death, she was awaiting the imminent birth of two more great-grandchildren.
Elaine was a perpetual student and physically active up to her diagnosis. She was a country girl who loved the outdoors and she read historical books her entire life. Before the ALS diagnosis, Elaine participated in continuing adult education at the University of Michigan, walked daily to the library, and traveled. She found much joy reading her books and sharing and exchanging books during her illness. She was fascinated by history and learning about other cultures. Elaine was proud of her world travels and collected many beautiful mementos from her favorite countries.
Elaine dealt with the sorrow of losing her husband in 2002 by learning to quilt and continuing with her physical activities, such as Tai Chi and daily walks, to beat back depression upon becoming a widow. She became an avid quilter and created numerous intricate and stunning quilts, passing along her creative sewing skills to her daughter, Sandy. Elaine described her original quilts as artistic quilting versus block quilting and she was extremely proud of her continued desire to learn.
Elaine returned to her childhood home in Ann Arbor, Mich., a few years after Ambrose's death, where she was able to connect and reconnect with her family members, in-laws, nieces and Canadian cousins, along with a host of fantastic and supportive friends and family. She was cared for in her home. She kept in close touch with friends from Yellow Springs and other friends throughout the United States. She spoke regularly of her world travels, the importance of education and saving money, and she educated everyone who came into the house, telling them to get the best education they could afford. The young caregivers did not know what they were in for when they signed up with Elaine! They were regularly schooled on the importance of saving money and becoming independent women! Elaine advised each and every caregiver, visitor or hospice team member to read and to continue to learn. She remained a teacher and lover of learning and life, for life!
A private service will be held on May 14, 2022, noon–4 p.m., at Muehlig Funeral Chapel, located at 403 S. 4th Ave. in Ann Arbor; 734-663-3375. A link will be located on their website, where the family invites you to engage with notes, messages, condolences and/or pictures that you wish to share. Go to: dignitymemorial.com/funeral-homes/ann-arbor-mi/muehlig-funeral-chapel/4117?utm_source=google_my_business&utm_medium=organic.
In lieu of flowers, the family asks that you consider memorial contributions to ALS of Michigan Southfield Chapter or your local ALS Chapter or Arbor Hospice in memory of Elaine. For questions, please contact her daughter Sandy at sandy@sandranuttattorneyatlaw.com.
Arbor Hospice — 2366 Oak Valley Drive, Ann Arbor, MI, 48103; n888-992-2273 and 734-662-5999; arborhospice.org
ALS of Michigan — 24359 Northwestern Hwy., Suite 100, Southfield, MI, 48075; 800-882-5764; alsofmichigan.org/contact.