Becky Jo 'Rebecca' Eschliman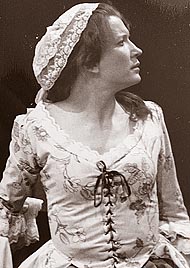 Becky Jo Eschliman, known to family and friends as "Rebecca," passed away early on Tuesday, March 22, 2022.
Rebecca, who was born to Helen Elizabeth (Blankenhorn) and John Edward Eschliman on Jan. 7, 1948, in Xenia, Ohio, lived most of her life in Yellow Springs. After graduating from Yellow Springs High School in 1965, she left for Michigan for four years to study French, the fine arts, theater and education at Kalamazoo College, including a study abroad year in France.
She graduated from Kalamazoo in 1969 with a Bachelor of Arts degree in education and returned to her beloved Yellow Springs. She taught both English and French in Yellow Springs public schools for a number of years and is still fondly remembered by former students. Rebecca thereafter worked as a marketing specialist for the Antioch Bookplate Company, whose bookplates included artwork from well-known artists such as Rockwell Kent, Daniel Burne Jones and Thijs Mauve, as well as a photo reproduction of needlepoint wall art that Rebecca designed and stitched for her mother, Helen. Rebecca contributed for many years to the upkeep of historical information about the bookplate company in her work with the YS Historical Society.
In her personal life, Rebecca lived into the values she professed and the arts that she admired. She was a perpetual student and an avid reader. She worked for decades to preserve the history, culture and values of the Yellow Springs community that she so treasured. Rebecca once shared the sentiment, "When it comes down to it, all people really want is to matter." Rebecca mattered greatly to her many dear friends and far-flung family, to the vibrant cultural life of her lifelong hometown, and to the preservation of the rich, unique history of Yellow Springs.
Rebecca was an active contributor to many Yellow Springs community organizations. She was secretary and treasurer of the Yellow Springs Shakespeare Study Group for many years. She was also a member of the YS Senior Center, the YS Historical Society and the Village Library Commission. She had 10-plus years with the YS Library Association, and was the Ex Libris editor/publisher and current president.
She loved theater and was the angel in the Oberufer Christmas plays at the Presbyterian Church for many years. She was a member of the Center Stage family from the 1970s through the 1990s, appearing in many Gilbert and Sullivan productions. Looking back on her leading roles, she said that two Center Stage personal highlights were playing Lady MacBeth in the Scottish play and Emily Dickinson in the one-woman show "The Belle of Amherst." She directed "Bell, Book and Candle," "A Shot in the Dark" and "The Marriage."
Rebecca was a woman of style and a prolific and talented fiber artist who designed and created exquisite tapestries. She was also a skilled seamstress. She admired artworks crafted of unexpected scale and materials: food-made art, fantastical sculptures of recycled materials, mosaic pattern and tessellations.
Rebecca was preceded in death by both her parents, John and Helen Eschliman. She is survived by her two younger brothers, David (Candice Hall) Eschliman, of Colorado Springs, Colo., and Tim Eschliman, of American Canyon, Calif.; as well as nieces and nephews Thea, Tore, Brede and Teale.
A celebration of life will be held Thursday, June 30, at 6 p.m. at the Vernet Ecological Center (Glen Helen Building).
In lieu of flowers, the family asks that you consider memorial contributions to community organizations affiliated with the Village of Yellow Springs, especially the Yellow Springs Community Foundation and Tecumseh Land Trust.
Condolences may be made to the family at http://www.beltonstroup.com.