Jennie Louise Berkshire Lebold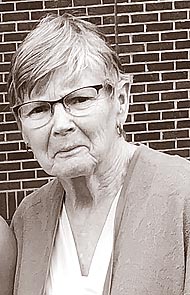 Jennie Louise Berkshire Lebold, 81, of Harrisonburg, Va., passed away peacefully on April 4, 2022. She was born on June 4, 1940, in Springfield, Ohio, to the late Robert and Mary Jane Berkshire. On Dec. 28, 1963, she married Jack Lebold, who preceded her in death on June 8, 2017.
Jennie grew up in Springfield and graduated from Wittenberg University. She and her husband, Jack, lived in Yellow Springs from 1963 to 2011. She taught in the City of Springfield school system until she had her children, Jini and Joe. Jennie went on to work for the John T. Bryant Company and Stutzman's Landscaping, as gardening was her true passion. She volunteered at the Yellow Springs Library, Glen Helen and with the Yellow Springs Tree Committee. Besides her passion for gardening, Jennie loved to cook. She and Jack spent most Octobers at the Ye Olde Trail Tavern making the Oktoberfest meal, including her homemade German potato salad.
But Jennie was first and foremost a mom and nana. So many memories were made driving back and forth to swim practice in her '65 Mustang at all hours of the day, seven days a week. Swim practices, meets and more practices were capped off with singing to her AM radio. Jennie continued the tradition with her grandkids, Peyton, Wyatt and Coban, as she enjoyed watching them play baseball and soccer. She and Jack moved to Staunton, Va. in 2011 to be closer to them. She enjoyed trips to Virginia Beach and rides through the Shenandoah Valley and to Morgantown, W.V.
Jennie is survived by her two children, Jini Cook, and husband Scott, of Harrisonburg, Va., and Joe Lebold and Paige Muendel, of Morgantown, W.V.; a brother, Mike Berkshire, of Springfield; and three grandchildren, Peyton Armstrong and husband Chase, Wyatt Cook and Coban Lebold.
The family would like to thank Jennie's caregiver, Maddison Moody, who took wonderful care of mom for two years as she battled dementia. The family would also like to thank Willow Estates and the Harrisonburg/Rockingham Community Services Board for their kindness and support.
Memorial contributions may be made to the Glen Helen Association at http://www.glenhelen.org.