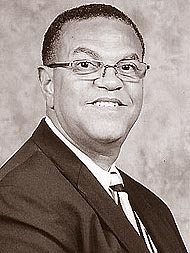 The Rev. Dr. James A. Nooks went home to be with his loving savior, Jesus Christ, on March 26, 2022.
James was born on July 17, 1951, in Xenia, Ohio. He was preceded in death by his parents, James T. Nooks and Idella J. Nooks; wife, Debra K. Nooks; sisters, Cassaundra Story and Patricia Nooks; and son-in-law, Shaun Evege. He is survived by his brother, Jonathan Nooks; and daughters, Angela (Brentt) Hogan, Kisha (Torie) Williams, Anita (David) Lucas, Amy (Shuan) Evege, Breauna Nooks, and Gabrielle Nooks. The Rev. Dr. Nooks also leaves behind several grandchildren and great-grandchildren and a host of nieces, nephews, cousins and friends.
James was a truly kind and humble man who loved unconditionally and dedicated his life to serving God and others. James enjoyed teaching, preaching, playing sports, reading books — lots of books — laughing loudly and spending quality time with his family. James was the author of the book, "You Answer the Call or You Die: Let the Women Preach in the Black Baptist Church." He was a passionate advocate of people being allowed to operate in their God-given gifts and callings in the church as well as in their everyday lives.
James graduated from Xenia High school in 1969. He received his undergraduate degree in chemical engineering from the University of Dayton, his master's degree in industrial management from Central Michigan University, his Master of Divinity degree from Payne Theological Seminary, and his Doctor of Ministry degree from United Theological Seminary.
James retired from Navistar after 33 years of service. During his tenure at Navistar, he helped pioneer the Concerned African Americans of Navistar (CAAN), which was a part of his diversity and inclusion work. After retiring, he went on to become the first hospice advanced chaplain for the Ohio Health Network, serving at Ohio State Hospital and Riverside Hospital. Prior to working for Ohio Health, he worked 33 years in various levels of management for Monsanto Research Corporation.
The Rev. Dr. Nooks served as youth minister at Restored Life and Mount Zion Baptist Church before becoming the pastor of First Baptist Church in Yellow Springs from 1992 to 2005. He also led street ministries in the Springfield and Yellow Springs communities for several years and remained involved in those communities. He was a strong advocate for family connection and was involved in the organization and continuation of the Hall-Nooks family reunion.
Services for Pastor Nooks will be held Saturday, April 9, at St. John Missionary Baptist Church in Springfield. Visitation will begin at 10 a.m. and continue until the time of service, which will be at 11 a.m., with Pastor Ernest C. Brown Sr. officiating and serving as eulogist. Interment will follow at Cherry Grove Cemetery in Xenia. Social distancing protocols will be observed and face masks will be required.
Arrangements entrusted to Porter-Qualls-Freeman Funeral Home. A livestream of services will be available at saintjohnmbc.org/funerals.