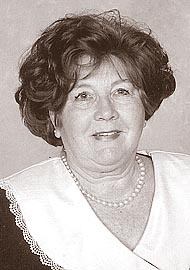 Rita Maria Powers, age 88, passed away peacefully at Hospice of Miami County on Wednesday, March 30, 2022, after a long illness.
Rita was born on Dec. 4, 1933, in Würzburg, Germany, to Alois and Isabella (Windsheimer) Grätz. Soon after, the family moved to Regensburg, Germany, which they came to call home. Early in WWII, Rita's father was taken to a concentration camp as a "volksverräter" (traitor). Rita's mother was left to raise her and her three brothers alone until her father returned, weak and ill, after the Americans liberated the camp at the end of the war.
Although Rita was teased as a child for her red hair, she grew up to be admired for her lovely, wavy locks. She trained to be a dental assistant and later gave birth to son Eric in 1956. She found work at the clinic on the Air Force base in Wiesbaden, where she met her husband, Ken Powers. They married in 1961 and, soon, daughter Desiree was born.
The family moved to Pennsylvania to stay with Ken's family while he pursued work as a civilian, but he decided to rejoin the military — this time the Army — and was sent to serve in Korea for a year. Rita sailed back to Germany on the S.S. Berlin to stay with her family for the duration. Daughter Cynthia was born that year in Regensburg in 1961.
When Ken's tour of duty in Korea was over, Rita and daughters sailed back to the United States and Ken rejoined the Air Force, in which he served a total of 20 years.
Rita realized that, in America, you need a car to get around, so she learned to drive in her early 30s. She helped drive to all the new places the family was stationed, from Myrtle Beach to Anchorage, from Biloxi to the Upper Peninsula, and points in between. She even drove the Alcan Highway in early December all the way to Anchorage! Rita enjoyed go-kart racing, along with Ken, but participated in the then-quaintly named "powderpuff league."
Because of frequent moving, she found it easiest to find work as a waitress. Whether it was slinging hash in a pancake house or serving chateaubriand dressed in an evening gown, she worked long and hard hours to save money to take her daughters home to visit Eric and family in Germany every couple of years.
In Rita's mid-50s, she helped Ken build their home in Miami County. They built a two-car garage with a work loft with their own hands and, over the years, re-roofed, re-sided and made many updates to the house themselves. But repairing a hole on the roof where critters got in while in her 80s was a bit too much for the family to handle! Always after hard work, she'd enjoy a glass of wine or good German beer.
Rita's great joy in life was becoming an "oma." She loved her grandchildren and great-grandchildren dearly. She sang them all the German lullabies when they were little. The children adored their Oma and her fun-loving nature. She took them on many trips to Kings Island, and yearly visits with Desiree and family to Yellow Springs Street Fair were a favorite activity.
Husband Ken passed away during the pandemic as Rita battled her own health challenges. Also preceding Rita in death were her parents, Alois and Isabella Grätz; and brother, Theo Grätz.
Survivors include brothers, Reinhold Grätz and Günter Grätz; son, Eric Grätz; daughters, Desiree Powers and Cynthia Powers; grandchildren, Stefanie, Anya, Veronica, Natalie, Hank, Greta, Ben and Michael; great-grandchildren, Camron, Robert, Zehra, Cem, Astra and Max; and many other family and friends.
Rita was the matriarch of the family. We were the planets and moons that revolved around her sun. She will be so greatly missed by all.
Rita will be interred next to husband Ken in Pennsylvania.