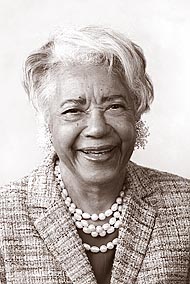 Josella Thomas Abrams was born March 14, 1936, in Hawkinsville, Ga., as one of six children to the late Jack and Rena Mae Thomas.
As an advanced student, Josella skipped a grade and graduated high school early as the valedictorian in 1953. Accepted to Spelman College as a young freshman, she had already made her family, friends and hometown proud, and they collectively raised money for her tuition. Upon graduating from Spelman College in 1957 with a BA degree in English, Josella returned to Hawkinsville to become a public high school teacher. There, she paid it forward, displaying her fondness for reading and her natural ability to lead others while teaching hundreds of African American students, including her youngest brother, Lawrence, and numerous nieces, nephews and friends. Josella's legacy of supporting education lives on at Spelman College, where the Josella Thomas Abrams Travel Abroad Scholarship Fund was endowed in 2015.
Josella spent weekends going to dances and socializing with friends. While attending a football game in Fort Valley, Ga., a mutual friend introduced Josella to Lawrence Abrams of Thomasville, Ga. She was immediately swept off her feet! The couple later wed on Dec. 28, 1958, and went on to spend over 49 years of marriage together.
While their careers flourished as teachers, Josella and Lawrence moved to Ocilla, Ga., where they built their first home. Soon after their arrival, they welcomed their first son, Lawrence Jr., in 1961, and their beautiful daughter, Andrea, in 1963. Lawrence accepted a position as executive director of the Community Action Agency in Cocoa Beach, Fla., and shortly after their arrival, the young couple welcomed their third child, Martin, in 1969. Josella continued to teach English in Cape Canaveral, Fla. before the family relocated to Yellow Springs in 1969.
Upon arrival there, the devoted mother and educator began substitute teaching in the public school system of Yellow Springs. Soon after, she gained full-time employment with the Springfield Public School system as an English/reading high school teacher. During her career at Springfield South High School, she stressed the importance of African American children being prepared for post-high-school opportunities. Josella organized special clubs, school trips and talent shows and encouraged parent involvement — all designed to enhance the student's high school experience and future career advancements.
Through faith and supplication, the family found their new church home within a two-block walking distance, at Central Chapel AME Church. For 50 years, Josella was a proud and faithful member of Central Chapel. There, she served in numerous positions as a member of the senior choir, Sunday school and steward board member, and various other ministries. Josella loved her solo performances of "Great is Thy Faithfulness," where her soprano voice filled the halls of the chapel. Another of her greatest loves was the church lay organization. Josella proudly served as the Central Chapel AME Lay Organization president and later became the president of the entire Ohio Lay Organization, where she served for eight consecutive years. She truly served her community. Furthermore, while serving as the Ohio Lay president from 2000 to 2008, she received numerous awards for all levels of church leadership, and strived to uplift the community and promote the teachings of the Lord and service throughout the world.
After 35 years of teaching excellence, Josella retired from the Springfield City school system. She and Lawrence began enjoying retirement life, which included cruising, traveling, entrepreneurship and the joy of seven wonderful grandchildren.
Josella was affectionately called "GJ," "JoJo," and "Grandma Jo," by her grandchildren. They will remember cherished moments during summers in Ohio at the Glen, Young's Dairy and trips to "Big Meeting" down south. As she aged, Josella split her time between her children's homes in Alabama and Minnesota, where she could "grandparent" and be a cheerleader at numerous football games, volleyball games, cheerleading competitions, tennis and soccer matches and swim meets.
Josella was a strong woman who loved the Lord, her family and friends. On April 24, 2022, she reunited with her beloved husband, Lawrence, in peace and rest. She leaves behind, to cherish her memory her son Lawrence Abrams Jr. (Jackie), of Huntsville, Ala., daughter, Andrea Abrams Turner (Stuart), of Edina, Minn., and son Martin Abrams (Amanda), of Minneapolis, Minn.; seven grandchildren, Lawrence ("LJ") Abrams III, Ariel Abrams, Payton Turner, Lauren Turner, Samuel Abrams, Sophia Abrams and Allegra Abrams; brother, Lawrence Thomas (Faye), of Antioch, Calif.; aunt, Arie McCarthy Morehead, of Hawkinsville, Ga.; cousin, who was like a brother, James Wesley (Ollie) of Ann Arbor, Mich.; and a host of nieces, nephews, cousins, friends and caregivers.
Service for Josella Abrams will be held on Saturday, May 7, at Central Chapel AME Church in Yellow Springs. Visitation will begin at noon and will be followed by a service at 1 p.m., with the Rev. DeBora Duckett officiating and the Rev. Dr. John E. Freeman as eulogist. Interment will follow at Glen Forest Cemetery in Yellow Springs. Social distancing protocol will be observed, and face masks will be required.
Arrangements entrusted to Porter-Qualls-Freeman Funeral Home.