Kimo Edward Quientus Brown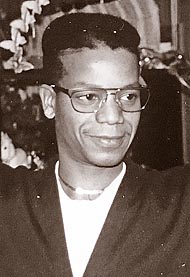 Kimo Edward Quientus Brown passed away unexpectedly on Tuesday, May 3, 2022, at his home in Yellow Springs. A celebration of life was held on Saturday, May 14, at Central Chapel AME in Yellow Springs, with the eulogy given by the Rev. Dr. John E. Freeman.
Kimo was born on Dec. 11, 1957, in Greene County, Ohio, to Mae Brown and Edward Brown.
He was a man full of personality. He was a loving son, father, grandfather, brother, uncle and friend. He grew up in Yellow Springs and, while attending Yellow Springs schools, was a member of the basketball, cross-country and track teams, where he won a state track championship. After graduating from Yellow Springs High School in 1976, he enlisted in the Army and Air Force, where he was a combat medic. This led him to Victorville, Calif., where he attended college and started a family.
In 1990, Kimo ventured back to Yellow Springs to be with his mother and raise his sons in the community he called home — a community that he loved and that supported him. He became a respiratory therapist and worked at Miami Valley Hospital, Children's Hospital and Mercy Medical Center. He also operated Brown's Lawn Care, through which he provided landscaping throughout the community. In 1997, his daughter, Sarah, entered the world, completing his family.
In his own words, Kimo was a self-proclaimed Black hippie. He was a man of many talents who enjoyed dancing, playing the drums and piano, design, playing and coaching sports and acting. He had recently given an impromptu performance of his role in high school as Tony in "West Side Story," singing "When You're a Jet" for his godmother, Carole Cobbs.
He leaves behind to mourn his loss his sons, Kimo Brown (Stacy) and Kilan Brown (Stephanie Reed); his daughter, Sarah; his grandchildren, Kimo Julian Brown, Lennox Mae Brown, Adelynn Amiya Brown and another on the way; cherished nephews, Stephen, Tosh, Quata and Nicolas Brown, and Eric Lopez; and niece, Saudia Benning; as well as a host of lifelong friends.
In addition to his parents, Mae Brown and Edward Brown, Kimo was preceded in death by his brothers, Charles Dorsey and Arbra D. Dorsey.