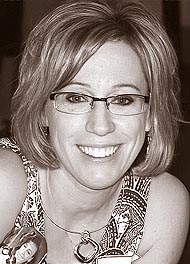 Mother of Riley Jayne Shay, wife to Dan Shay, sister to Marianne North, daughter to John and Rebecca Everhart, counselor to many, cousin, niece, aunt, sister-in-law, daughter-in-law, granddaughter and friend to even more.
Rachel, 48 years old, passed away on Friday, May 27, 2022, in her home with her loving husband by her side. She was born in Springfield on March 4, 1974, and was a member of St. Teresa Catholic Church. Rachel was a co-owner of Positive Perspectives Counseling Center for over a decade. Her true calling and devotion was helping people of all ages. She found joy in her counseling work and had a 25-year career that included becoming an expert in TF-CBT, Trauma Focused Cognitive Behavioral Therapy for children and families. She was also known for her skills with panic, obsessive-compulsive disorder and many other anxiety problems. Rachel felt that healing was an interactive process between herself and her clients, and she loved the push-pull of the therapeutic process. Her special combination of gentle following and leading were much appreciated by the families and clients with whom she worked.
Rachel's genuine enthusiasm, sense of humor and intelligence were highlights for all who knew her. She was an indispensable aid and beloved friend to her business partner. She embodied a "can do" attitude in her clinical encounters as well as in her life. She was a deep thinker and a great strategist.
Rachel also enjoyed running, working out and attending her daughter's sporting events. She loved college football, especially Ohio State and Notre Dame, and fall was her favorite season.
She was a courageous warrior in her two-year fight against breast cancer. Her laugh was infectious. She was deeply loved and will be sorely missed.