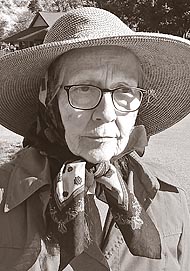 Carolyn Ardith Smith Treadway, 88, lately of Friends Care Community in Yellow Springs, Ohio, died a little after noon on July 15, 2022, in Cincinnati, Ohio. Born on Sept. 17, 1933, at Emro Farm near Coal Creek, in Keokuk County, Iowa, she was the first of four children of Irving and Mary (Emmons) Smith.
She married Allen Frank Treadway at Coal Creek Friends Meeting on June 15, 1954. They were married for more than 50 years and raised five children. Allen died on May 19, 2005. Carolyn married Paul Wagner on Nov. 24, 2006, at Yellow Springs Friends Meeting. They were together until Paul's death on July 25, 2012.
A graduate of Scattergood Friends School near West Branch, Iowa, and of Earlham College in Richmond, Ind., Carolyn had a talent for happiness wherever she was. She took part in bird counts for the Cornell Lab of Ornithology. She was an avid gardener and knew about edible wild plants and the best times to pick them. Dandelion leaves joined homegrown lettuce on the family table every spring.
Carolyn was a natural caregiver. She used her gift in many settings — in hospital work, in clerical work at Friends Committee on National Legislation and then in her own growing family. After her children had all started school, she worked as City Clerk of Earlham, Iowa, and served on the Scattergood School Committee, where her voice was appreciated as one of calm reason. Friends remember her as a great, kind, strong presence in the world.
Carolyn was preceded in death by her parents, her two husbands, and her sisters, Evelyn Mavromichalis and Margaret Lacey. She is survived by her brother, Steven Smith, of Claremont, Calif., and her children and their spouses: Daniel Treadway, of Iowa City, Iowa; Brian Treadway and Geraldine Glodek, of Nova Scotia, Canada; Dorothy and Samuel Matthews, of rural Belle Rive, Ill.; Jennifer and Vince Peters, of Chicago, Ill.; and Michael Irving "Irv" Treadway, of West Branch, Iowa. She is also survived by Paul's three children: Gordon "Pop" Wagner and wife Thea; Gary "Bodie" Wagner; and Suzanne Wagner. She will be missed by six grandchildren and their spouses: Christina Peters and Ravi Shankar, Andrew and Amber Peters, Stephen and Esther Matthews, Philip Matthews, Mary Matthews and Joseph and Joanna Matthews, as well as three great-grandchildren. The family is thankful to Tim Morand, of Yellow Springs, for his kindness to Carolyn in her last years.
Carolyn donated her body to the Wright State University School of Medicine.
Two memorial services are planned. The first will be on Saturday, Aug. 13, at 10:30 a.m. Eastern Daylight Time, in Westminster Hall at the First Presbyterian Church, 314 Xenia Ave., Yellow Springs, Ohio. The second service will be held on Saturday, Aug. 20, at 10:30 a.m. Central Daylight Time, at Scattergood Friends School, 1951 Delta Ave., West Branch, Iowa. If you would like to attend either service via Zoom, please contact Dan Treadway at treadway@netins.net.