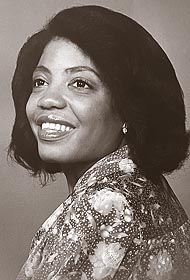 Anita Louise Davis, age 65, peacefully and quietly passed away on Tuesday, Aug. 30, 2022, at Hospice House with her family present. Anita was born March 10, 1957, to Barbara (Oliver) Davis and Sidney O. Davis in Plattsburgh, N.Y. Anita's family settled in Yellow Springs in 1961, later moving to Omar Circle, or OC, where she spent the remainder of her childhood as one of the original OC gang kids.
Anita received her formal education in Yellow Springs Schools, spending her last two years of high school at the then Greene County Joint Vocational School in the business program, where she co-oped at Wright-Patterson Air Force Base. Anita graduated from high school in 1976. The following fall, she went on to attend Central State University, graduating in 1984 with a Bachelor of Science degree in communications. Anita was also initiated into the Zeta Phi Beta sorority in 1983. Having taken full advantage of internships in Atlanta, Ga., and Wright-Patterson Air Force Base, Anita was hired at the U.S. Defense Logistics Agency, in Columbus, Ohio, where she worked until 1990.
Through peer pressure at its best, Anita visited Central Chapel A.M.E., or CCAME, at the age of 16 and shortly thereafter became a member. As an active member, she joined the Central Chapel Youth Organization. During that time, she sang in the Junior Choir and served on the Junior Usher Board. Anita's Christian dedication brought her mother and sisters to CCAME, where they all later joined. Anita leaves a legacy to CCAME making the Davis family members going on 50 years.
Anita was preceded in death by her mother, Barbara O. Davis. She leaves to cherish her memory her father, Sidney O. Davis Sr., of Costa Rica; sisters, Lillian S. McCree (Yuanthony), of Beavercreek, Ohio, and Karen D. Robinson (Tracey), of Elgin, S.C.; Sidney O. Davis Jr., of Clayton, Ohio, Miracole Davis, of Dayton, Ohio, and Precious Davis, of Las Vegas, Nev.; nieces and nephews; great-nieces and great-nephews; as well as many cousins. Other very special people in Anita's life include her "bonus" mom and stepmother, Lenora Davis, and close friend and neighbor, Rebecca Sweat, of Dayton, Ohio, who are left to treasure her memory.
Anita enjoyed roller skating, dancing and "old-school" R&B, especially the music groups that originated in the Dayton area during the 1970s and '80s. Anita will be remembered as a very kind person who greeted all with a "Hello, my friend." To whoever asked how she was doing, Anita would reply: "I can't complain, can't complain." According to LaMonte (Monty) Stewart, a family friend, Anita will always be remembered for throwing basement parties at her home, when people went to parties to dance! For that, she will truly be remembered by those who grew up in Yellow Springs with her.
A service was held on Saturday, Sept. 10, 2022. Arrangements entrusted to Porter-Qualls-Freeman Funeral Home.