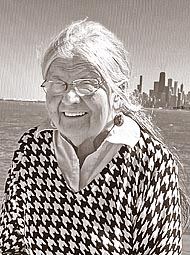 Joyce Elaine (Allen) McCurdy, age 81, of Springfield, Ohio, passed away on Sunday, March 5, 2023. She was born the daughter of Lester and Hazel (Schneider) Allen on Nov. 7, 1941, in Springfield, Ohio. She was preceded in death by her parents and husband, Patrick W. McCurdy. She is survived by her beloved children, Patrick and Rachel McCurdy, Aaron McCurdy, Elizabeth McCurdy and Jacob McCurdy; and her grandchildren, Hazel, Justin, Audrey, Andrew, Shawn, Reece and Emily. Joyce was a loving mother, grandmother, teacher and friend.
After graduating high school in 1959, she went to Wittenberg University and received her bachelor's in English and history. Joyce received her master's from Ohio State University in 1964. She attended Ohio State law school. She was an avid reader of books and is a published author in Ripples magazine.
She worked in Springfield Schools from 1961 to 1964. She taught for 47 years in the history department of the Yellow Springs Schools. Her trailblazing style of teaching and student-centered approach was admirable as she positively impacted hundreds of students. She initially began teaching in the late '60s in Yellow Springs at John Bryan Junior High School and in 1970 transitioned to Yellow Springs High School. Her role as a social studies and history teacher went beyond the classroom, where she taught American history, English, U.S. government and a host of other classes.
She served in a variety of co-curricular positions that included being the longtime senior class advisor, organizing the annual senior trip, which included such destinations as Chicago, New York City and Toronto, Canada. She also served as the yearbook advisor, organizer of the prom, senior class musical, Mock Trial advisor and Quick Recall advisor.
She was an avid supporter of all students as evidenced by her being a regular attendee along with her husband, Pat, at athletic events, school plays, concerts and other school functions. She also was a fixture at class reunions. As a teacher, she was remembered for sharing her life experiences, particularly her hitchhiking excursions to California. Her field trips to area jails and intense classroom discussions, along with her penchant for bringing in guest speakers, were memorable. Writing classroom notes on the chalkboard that often stayed there for weeks at a time, paperback books, ditto sheets, misplacing assignments, losing her keys, running late to class, challenging the administration, telling stories about growing up in Springfield and being a champion for the underdog typified Joyce. Most importantly and above everything else, she was one of the most beloved and caring teachers who ever existed. She loved teaching and she loved her students. She will be missed by all of those who love her.
Friends and family were invited to call on Saturday, March 11, 2023, at the Richards, Raff & Dunbar Memorial Home in Springfield, Ohio, where a funeral service was held with Deacon Norm Horstman officiating. Expressions of sympathy may be left at richardsraffanddunbar.com.
A Celebration of Life will be held Saturday, April 1, 2023, from 1–3 p.m., in the Vernet Ecological Center at Glen Helen Nature Preserve in Yellow Springs, Ohio.