Julia Celestia Alford Davis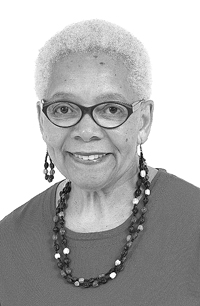 Julia Celestia Alford Davis, of Yellow Springs, departed this earthly life on June 8, 2023, at the age of 79, after a long battle with Parkinson's Disease.
She was born to George and Lillian (Epps) Alford, in Lowell, Massachusetts, on Dec. 24, 1943. Julia was the second child and first daughter of seven children in the Alford family. The family lived in Massachusetts while her father was stationed there as a 1st Lieutenant in the United States Army. Shortly after Julia's birth, the family moved to Dayton, Ohio. Julia attended Dayton Public Schools and graduated from Roosevelt High School. After Roosevelt, she earned a bachelor's degree in history education from Earlham College in Richmond, Indiana. Eventually, Julia earned a master's degree in history from the University of Dayton, and a master's degree in conflict resolution from Antioch University in Yellow Springs. After college Julia married John Sidney Davis, and they had three children, John, Jeffrey and Jennifer.
Julia accepted the Lord, Jesus Christ at an early age and was a lifelong Christian who faithfully served the Lord. She was a long-time member of St. John Missionary Baptist Church in Springfield, Ohio, where she was a deaconess, youth leader, Women's Day speaker and founder and director of Operation Homework, an after-school tutoring program.
Julia taught history in both Dayton Public Schools and Yellow Springs Schools. Her students still appreciate and praise her for including African American and women's history in all her lessons.
Her most treasured accomplishment, however, was being the founder of Epps-Alford Publishing. Through Epps-Alford, Julia made speeches and held workshops around the country, wrote a life advice book for females of all ages, a classic stories book, a self-esteem book for teenagers and a youth Sunday School book. Most notable were her African American history books, which celebrated the true richness of our history. In the 1990s, her African American history books were used by major school districts all around the country. Julia's books included beautiful artwork from local artists, including Emmanuel "Spud" Mooty, whom Julia and John met when he was a junior at Patterson-Cooperative High School in Dayton, and loved as if he were their own child. As many of us know, her last book, "I Like My Brown Skin Because …" was written because her grandson, John Christian, was unhappy with his skin color and asked the question, "Gram, does your skin make you sad?" Well, that was all Julia needed in order to write a book to make him and children of all ages love themselves!
Julia loved life! She enjoyed talking on the phone with friends and family, playing tennis, walking around town, swimming and bike riding. Julia looked for fun and adventure in everything she did. Every vacation that Julia planned was packed with adventure. One summer, Julia planned to take Jeffrey and her nephew Tony to Camp Merrowvista in New Hampshire. She brought her other children and turned it into a trip through Toronto, Montreal and Quebec City. The following summer, she decided to drive to California with her children to take John to an internship in Los Angeles. She planned a month-long round trip journey with stops to visit most of the national parks in Colorado and Utah; to see the lights of Las Vegas; to walk to the bottom of the Grand Canyon and spend the night at Phantom Ranch; and to tour by George Washington Carver's childhood home on the way back to Ohio. Another summer, Julia planned a European trip with Jennifer and three students from Yellow Springs. She helped lead the students in walking all over England, France, Spain, Italy and Morocco. At one point, the Yellow Springs group got separated from the larger tour group, and the five of them enjoyed trying to find their way around Paris, with Javit Drake as their interpreter.
Julia's love for adventure was not solely centered on her children. As a couple with an empty nest, John and Julia traveled extensively to Canada, the Caribbean, Mexico, Alaska (twice), Hawaii and various other U.S. states. They also enjoyed spending multiple weeks in Hilton Head, South Carolina. Hilton Head became like a second home, and they even had a church family they would visit while in town. Being diagnosed with Parkinson's and relying on a walker did not stop Julia from traveling. She separately visited Japan and China, as well as Germany and Israel, and had a ball in each country.
Julia was preceded in death by her husband of 46 years, John; her parents; and several brothers- and sisters-in-law. She has three children to cherish her memory, John, Jeffrey and Jennifer (Darnell), and her favorite grandson, John Christian. She also leaves three brothers, George (Kathy), Anthony (Debra) and Kyle; three sisters, Sherry (Chester), Anita and Sara (Stephen); three sisters-in-law, Lillian Davis Riddick, Caroline Davis Jenkins and Mary Davis; and a host of nieces, nephews and cousins. The viewing was Wednesday, June 14, 2023, in St. John Missionary Baptist Church. The funeral was Thursday, June 15, 2023, at 11 a.m. in the church. Burial followed in Glen Forest Cemetery, Yellow Springs, Ohio. Arrangements by Robert C. Henry Funeral Home, robertchenryfuneralhome.com.