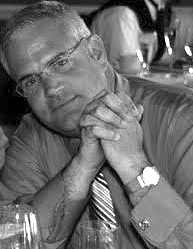 John Towers Broderick, age 59, of Yellow Springs, Ohio, passed away on July 8, 2023. He was born on Sept. 29, 1963, in Tawas City, Michigan, to the late George T. and Mary (Froats) Broderick. John is survived by his loving wife of 36 years, Melissa (Elmore) Broderick; son, Jacob Broderick; brothers, George Broderick, Robert (Rebecca) Broderick, Thomas (Debi) Broderick and Christopher (Jean) Broderick; sisters, Elizabeth (Tom) Bowers and Deborah Broderick; sisters-in-law Jan Elmore and Jennifer Elmore; and numerous nieces, nephews, and cousins.
John was a man who was larger than life. He lit up a room with his presence, and people naturally gravitated to him. He had a great sense of humor, laughed easily and loved seeing those around him laugh easily too. He was intelligent, hard working and generous to those he knew as well as those he didn't. He was a man of deep thought and a gifted writer who loved Neil Young's music and the writings of Loren Eiseley and Mark Twain. He would say that his greatest achievement in life was finding the love of his life and marrying her. He loved and adored his wife and son. And they deeply loved and adored him, too. And always will.
Family and friends were received Friday, July 14, 2023, from 11 a.m.–1 p.m. at Jackson Lytle and Lewis Funeral Home, Yellow Springs. John was laid to rest at Glen Forest Cemetery following the gathering at the funeral home. In lieu of flowers, memorial contributions may be made in John's honor to the Yellow Springs Community Foundation or the Glen Helen Association. Online condolences may be expressed to the family by visiting http://www.jacksonlytle.com.