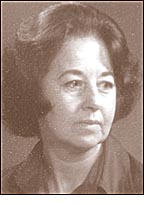 Dorothy J. Clark, beloved mother, grandmother and aunt, passed away Oct. 23, after a sudden onset of multiple complications. She was 82.
Born in Portsmouth, Ohio, on Feb. 26, 1926, Dorothy received her bachelors degree in education from Wittenburg University. While at Wittenburg, Dorothy met and married Edward Clark. The Clarks located in Yellow Springs in 1952, where Edward had accepted a faculty position at Antioch College. Dorothy became a nursery/kindergarten teacher at the Antioch School and a "founding mother" of what is now known as the Yellow Springs Community Children's Center. After raising her four children, Dorothy continued teaching in the Yellow Springs public schools.
She served as the Greene County Head Start director for eight years, during which time she also completed her masters degree in child development. In 1981 Dorothy accepted the position of director of child development for Wright-Patterson Air Force base, a position that also provided her the opportunity to work overseas for five years as the director of child development for the USAF base in Zweibrucken, Germany.
Dorothy retired from Wright Patt only to immediately accept an adjunct faculty position in education at Sinclair Community College. When sons Roy and Eric completed their education as travel agents in 1991, she came on board as a "silent partner" in the purchase of Yellow Springs Travel. Her life-long love of travel was now a business reality and she passed the remainder of her life enjoying a wide variety of adventurous travel.
In addition to her love of travel, Dorothy was an adept pianist, and to prepare for her beloved grandson Lonya's arrival from Russia, she learned a repertoire of Russian children's songs. As Lonya sang his own repertoire of songs, Dorothy notated them to replay.
Dorothy was active in the Yellow Springs Chamber of Commerce, the Unitarian-Universalist Fellowship, the National Association for the Education of Young Children, the Yellow Springs Community Children's Center board, and many other organizations.
Dorothy is survived by a daughter, Dawn of Greenville, N.C.; three sons and a daughter-in-law, Roy, of Springfield; Scott and Jeanine, and Eric, all of Yellow Springs; grandson, Lonya, of Yellow Springs; niece, Sharon Carroll of Urbana, Ohio; sister, Katherine Young of Rochester, N.Y., two brothers, Carl Warner, also of Rochester, and Richard of Portland, Ore., and many other nieces and nephews.
The family encourages generous donations to the Children's Center in lieu of flowers.