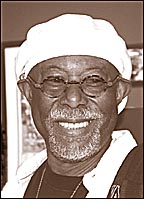 Former Yellow Springs resident Chuck Smart died Dec. 29, 2008, in Bremerton, Washington with his wife, Dawn, and his brother, Sydney, at his side.
He was born Feb. 10, 1941.
During his 67-year life, Chuck explored much of the world, performing, collaborating and recording music; conducting research; and collecting instruments. He studied at the Cleveland Institute of Music and Cleveland Music School Settlement, and at the Karamu House Theater for Dance and Music in Cleveland.
Chuck was associate dean of students at Antioch College in Yellow Springs for 16 years and he also taught percussion. He performed and conducted workshops in ethnomusicology and hosted jazz programs on the radio.
For more information on Chuck's life since leaving Yellow Springs go to http://www.chucksmart.com. A memorial service will be planned for a later date.