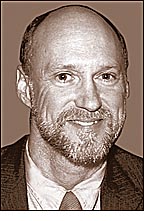 John Eric Siemer, known to his family and many friends as Eric, died at home in Yellow Springs on Feb. 19. He was 48.
Known for his cheerful, smiling demeanor, his quick willingness to help others, and his eclectic catalog of interests, Eric was loved by many in Yellow Springs and surrounding communities.
He was born in St. Louis, Mo., on June 2, 1960, to Pat and Ron Siemer, now of Yellow Springs. He spent most of his childhood and youth in Oak Park, Ill., immediately west of Chicago. His family, including parents and four brothers, moved to Yellow Springs in 1976.
While living in Oak Park, Eric was diagnosed with bipolar disorder at the age of 14. He bravely fought the disease, which causes its victims to suffer severe episodic emotional and physical anguish, all his life, exhibiting incredible courage and cheerful friendliness to family, friends and business acquaintances between debilitating episodes, when he was often hospitalized.
After graduation from Xenia High School, Eric joined the army and served in Germany. He returned to Yellow Springs in the early 1980s and shortly thereafter enrolled in Clark State Community College to pursue a degree in electronics. He also attended Wright State University.
He became an electronics assembly manager at Miller-Wethington Industries, Inc., in Yellow Springs from 1988 to 1991. Later he worked in other electronics positions in Dayton, and from 1991 to 1993 he applied a lifetime interest in bicycles and cycling as retail manager of Whitman Bikes and Fitness, Inc., in Beavercreek.
During these years Eric developed a passion for aviation and flying, with a special interest in ultralight aircraft. He bought a number of ultralight planes and began building one, which he never completed but which he frequently referred to with a grin as his "lifetime project."
In the late 1990s he married Sharon Dalrymple of Yellow Springs. The couple purchased a 15-acre home in Corwin, Ohio, where they established a bed-and-breakfast, a bicycle sales, repair and rental business, and a campground featuring bike trails and other outdoor facilities.
Sharon died of cancer in late 2003. Eric returned to Yellow Springs and worked with youth and adults, forming "Wing Nuts," an aviation club in which he instructed in hands-on aviation concepts including model building and flying and principles of aircraft construction and handling.
Late in 2006 Eric met and formed a loving bond with Jenny Chen, owner of Chen's Asian Bistro on Dayton Street in Yellow Springs. Together they operated the restaurant until his death.
Eric is survived by his loving partner, Jenny Chen of Yellow Springs; four brothers and two sisters-in-law, Marc of Cincinnati, Paul and Kim Riano of Olympia, Wash., Tony and Samantha of Xenia, and Patrick and his partner, Scott Sherwood, of San Francisco.; his parents, Pat and Ron Siemer of Yellow Springs; and nieces and nephews Hannah, Jacob, Kyra, Maya, Temple, Miles and Zoë Siemer and Elena Polinski.
The family is grateful to all the generous and caring friends of Yellow Springs, the congregation of the Unitarian Universalist Fellowship of Yellow Springs, the principals of Sowelo of Yellow Springs, and to Mary White, Jennifer Gilchrist and other musicians who generously volunteered help, guidance, food and personal services on learning of Eric's death.
A celebration of Eric's too-short life is planned for Saturday, Feb. 28, 3:30–6 p.m., at the United Methodist Church sanctuary, nave and other rooms at Dayton and Winter Streets in Yellow Springs.
Contributions in Eric's memory will be welcome to the Bipolar Research Group, University of Pittsburgh School of Medicine.