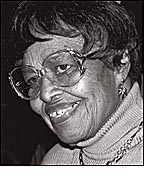 Charlotte A. (Adams) Jordan died Monday, March 23, after a lengthy illness. She was 86.
Charlotte was born Feb. 22, 1924, in Yellow Springs to Della Baber and Lewis Adams. She professed her faith in Christ at a young age and was a member of Central Chapel A.M.E. Church. Later in life she joined First Baptist Church of Yellow Springs, recommitting her life to Christ. Sunday School and AWANA were two of her favorite activities. She was a devoted member of the Deaconess Board. Following her mother's example, she and her husband made a habit of taking the pastors and wives out to dinner.
On April 25, 1953, she married the love of her life, Edgar B. Jordan of Columbus.  They spent the first three years of their marriage in Columbus, and moved to Yellow Springs to raise their children. Ed passed away five days shy of their 54th wedding anniversary.
Charlotte graduated from Bryan High School in 1942, and then took business classes at Clark Technical School in Springfield. She was a member of the Victorettes. She worked for Antioch College and then Antioch Bookplate Company, from which she retired in 1985.
Charlotte loved to travel, spending much time in Chicago, traveling by train to Mexico and visiting family in New York and Vermont.
She is survived by son Alan Jordan and Ellen Smith of Brattleboro, Vt., and daughter Robin and Anthony Jordan-Henry of Yellow Springs; two granddaughters, Anya Smith-Jordan of Chicago and Anisha Henry of Springfield; two great-grandchildren; sister Isabel and Cecil Newman, sister Naomi McKee and sister Evelyn and David Hill, all of Yellow Springs; a brother-in-law and two sisters-in-law of Columbus; and many nieces, nephews, cousins, adopted families and friends that she adored.
Charlotte was preceded in death by her parents, Della and Lewis Adams; and two sisters, Genevieve Rivers and Lois Edwards and her husband.
Services for Charlotte Jordan were held Saturday, March 27, at First Baptist Church in Yellow Springs.