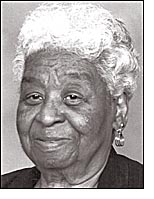 Julia Poole Hutchison, a former Yellow Springs resident, died Monday, April 12 at Greene Memorial Hospital in Xenia. She was 88.
Julia was born June 9, 1921, to Elbert and Jenny Poole. She graduated from East High School in 1939. She was an active member of Middle Run Baptist Church, and served on the Virginia Scott Missionary Society and Women's Ministry. She was also a member of the John Roan Post 517 Women's Auxiliary of Xenia. She was the last surviving sibling.
Julia is preceded in death by her husband, Lucian Hutchison. She is survived by daughter Pamela Blackmon of Springfield; grandsons Anthony Holton of Fairborn and Byron Holton of Lima; great-grandchildren Renee, Byron Jr. and Jamere Holton; friends Barbara Wingard of Wilberforce and Thomas Scrivens of Xenia and a host of nieces and nephews.
Services were held Friday, April 26, at Middle Run Baptist Church.