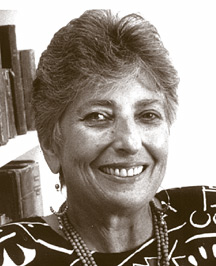 Hannah Goldberg died on Sept. 24, at Friends Care Community with her beloved daughter, Lisa, and close friends by her side. She was 77.
Hannah was born on Jan. 28, 1933, the daughter of Charles and Minnie Friedman. Her parents, both immigrants, met while taking classes in English at night school. Hannah grew up in a warmly embracing Jewish community in the Bronx, N.Y.
She was a member of the first co-ed class of the prestigious Bronx High School of Science and graduated magna cum laude from Brandeis University in philosophy. She was a member of Phi Beta Kappa. In 1962, she earned a masters degree and, in 1964, a doctorate in history from Johns Hopkins University. It was at Johns Hopkins that she met her late husband, literature professor Milton Goldberg. After a short stay at the University of New Mexico, the Goldbergs came to Yellow Springs in 1957, where they both served on the faculty of Antioch College. He taught literature and she taught history. In 1969, Hannah and Milton founded and directed the Antioch Centre for British Studies, a field study center for students interested in British history, literature, ideas and culture.
Hannah was to remain at Antioch for 26 years, for the last five as dean of the faculty during an unusually turbulent time in the history of the college. In 1983, Hannah left Antioch to become provost and academic vice president of Wheaton College in Norton, Mass. She brought innovation, vision and educational leadership to Wheaton, where she was instrumental in restructuring the entire curriculum with a new emphasis on non-Western cultures, creating a work-study program, and converting Wheaton to co-education.
Upon her retirement from Wheaton in 1998, Hannah moved to Providence, R.I., where she began a busy consulting career and joined the boards of Temple Beth El and Community Preparatory School, an inner-city middle school for children who aspire to go to college.
Hannah loved life and people. She had an extraordinary talent for making friends and inspiring their lifelong devotion. Her frequent hearty laugh will echo down the years in the ears of those who knew her. She entertained with gusto, enjoyed parties, poker games and world travel, and was equally at home in animated discussions of politics, higher education, cooking or professional basketball.
Hannah returned to Yellow Springs following spinal surgery and ensuing complications. Family and friends from around the country and abroad continued to visit her regularly at the Friends Care Community, basking in her never-ending delight in seeing them, her interest in all matters large and small, and the legendary sense of humor, which she maintained until the end.
In addition to her daughter Lisa, Hannah is survived by her sister, Zelda Raider (Arny), her sister-in-law, Dorothy Chaplik, her brother-in-law Ken Skolnik, many loving nieces and nephews, her dearest lifelong friends, Bob Friedman and Ilse and Cy Tebbetts, and her beloved grand-dogs, Gracie and Tana.
A memorial service is scheduled for Sunday, October 24, at 1 p.m. in the Glen Helen Building in Yellow Springs. In lieu of flowers, donations may be made to the Yellow Springs Community Foundation, where a fund has been set up for the benefit of the staff at Friends Care Center, or to the Dr. Hannah Goldberg Endowed Scholarship at Community Prep School at 126 Somerset Street, Providence, RI 02907.