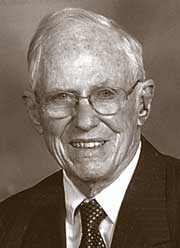 John L. Magee died of a brief illness Wednesday, Sept. 8, at Friends Care Center. He was 90. He was given comfort in his final days by Heartland Hospice as well as his dedicated caregivers at Friends Care.
John, born in Dayton on Oct. 15, 1919, was a graduate of Ohio Wesleyan and Ohio State. His many accomplishments include being a conscientious objector during World War II, having a career in social work, raising four children, working passionately for social justice and peace and supporting many area organizations such as Central State University, Yellow Springs School Board, Yellow Springs Senior Citizens Center, the Democratic Party, Planned Parenthood and Glen Helen.
After he retired from professional life, John raised organic beef and sold produce at the farmers market. He was a long-standing church member, the people and mission being more important than the denomination. Most recently he attended the Methodist Church. He was a regular at the over-80 Senior Citizens lunches and potlucks. He was preceded in death by his wife, Faith, and recently by his cousin, Betty Magee.
He is survived by his sister, Mary Catherine (Ray) Sell, his sons, Brian (Bernice) and Roger, his daughters, Karen (Chuck) Fabian and Ellen (Guy) Fields, five nieces and nephews, six grandchildren, one great granddaughter and extended family in Wilmington. There will be a gathering to celebrate John's life, the time and place to be announced. Those wishing to give a memorial gift are encouraged to contribute to a cause of their choice in memory of John to honor his legacy of social action and peace.