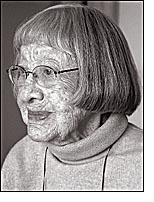 Ruth Bean died Aug. 29 at Friends Care Assisted Living. She was 101.
Ruth was born in Glen Ullin, N.D. She knit mittens for soldiers in World War I, played piano for silent movies and taught school in a one-room prairie schoolhouse. She moved to Yellow Springs in 1943, taking a teaching position at the Dayton Street School before starting work for the Fels Research Institute in Yellow Springs. Through this job she came to know all the "Fels families" enrolled in the institute's Longitudinal Study of Human Growth and Development.
Ruth was a white-water rafting enthusiast, had an avid interest in nature and was a longtime supporter of the Glen Helen Association, receiving the Association's Volunteer of the Century award. She also volunteered for many years at the Four Oaks School in Xenia for children with special needs. She was a member of the First Presbyterian Church and served on its board of deacons and was a longstanding member of the Yellow Springs Shakespeare Club, the Library Association and the Historical Society.
She was preceded in death by her parents, her brothers Morris and Charles, her sister Blanche, her niece Anita, her sister-in-law Xarifa and her great nephew, Leonard Bean. She is survived by her nieces and nephews, Doris Bean, Hadley Bean, Jennifer Alverson and Leslie Williams and their spouses and children, and locally by her nephew Rodney Bean, his wife Michelle Giguere and their children Erik and Kirsten.
A memorial visitation will be held Thursday, Sept. 2, 6–8 p.m., at Neeld Funeral Home, 1276 N. Detroit St., Xenia. A memorial service will be announced for Ruth at a later date.
In recognition of her lifelong love of children, donations in her memory may be given to the Yellow Springs Community Children's Center Endowment at the Yellow Springs Community Foundation. Condolences may be made to the family at http://www.NeeldFuneralHome.com .