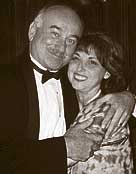 Melvin J. E. Steinberg died Oct. 23. He was 75.
Mel was born Feb. 4, 1935. He moved to Yellow Springs in 1964 with his wife, Gail, and became a tenured professor at Antioch College in the mathematics department. In 1968, Mel and Gail adopted Shira, the first of four children. In the years that followed, Seth, Jeremy and Liza became a part of their family. Yellow Springs was such a special part of the Steinberg's family experience.
In 1981, the Steinberg family moved to the San Francisco Bay area. Mel devoted his full attention to his new career as a world paper money dealer. In more than 35 years, Mel became one of the leading world banknote specialists.
Mel will be dearly missed by Gail, Shira, Jeremy, Seth and Liza, as well as by his six grandchildren, Leah, Kai, Jordan, Alexandra, Evan and Jacob, and by many, many friends.