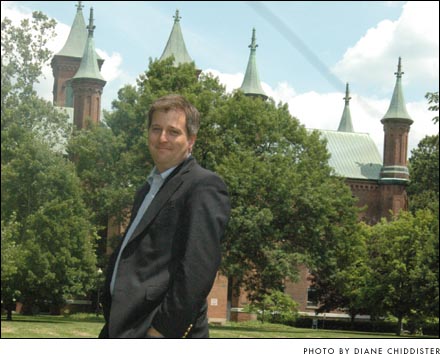 Derr recognized for efforts in Antioch's re-opening
On Wednesday, Oct. 27, it was announced that Antioch Interim President Matthew Derr is the 2010 recipient of the CASE V Executive Leadership Award. The award lauds the president, chancellor, headmaster or system head of a CASE District V member institution for outstanding leadership and service in support of education.
"Your efforts in saving Antioch College from permanent closure are an exemplary model of outstanding advancement work," said award administrator Teresa D. Exline, who is special assistant to the president, internal relations, at Indiana State University.
Executive Leadership awards are an opportunity for the Council for Advancement and Support of Education, or CASE, to applaud and promote the work and contributions of top educational executives. CASE is an international association of education advancement officers, whose ultimate goal is to enhance their institutions by bringing in support, whether in the form of money, alumni loyalty, public esteem or new students. In turn, CASE helps these individuals advance the cause of education by offering information resources and training opportunities to aid its members. CASE District V includes members from Illinois, Indiana, Michigan, Minnesota, Ohio and Wisconsin.
The award will be presented at the CASE V Grand Luncheon at 12:30 p.m. on Tuesday, Dec. 14 at the Chicago Sheraton Hotel and Towers.