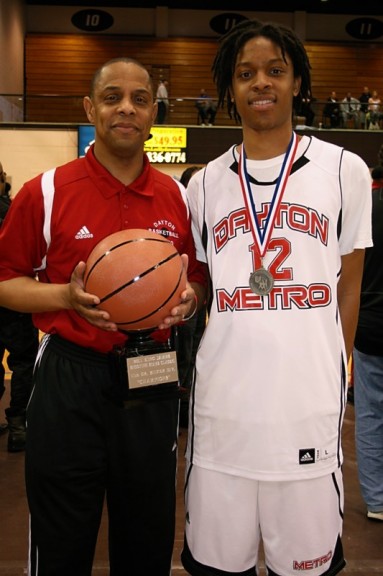 Local basketball players contribute to regional wins
Yellow Springs High School basketball players Greg Felder Jr., Tyler Bruntz, Roland Newsome and Ahmad Wagner helped their Amature Athletic Union regional basketball teams to win titles in the U-11 and U-9 grade levels over the Easter holiday last month.
Felder, playing on the Dayton Metro team coached by his dad, Greg Felder, contributed to a win in the Silver Bracket at the prestigious (Lebron) King James Classic in Akron, Ohio. In the championship game, Dayton Metro beat highly ranked ACB Hoops from Michigan, which has 4 Division I recruits, 69–67. Felder Averaged 10 points, five assists and five steals per game.
In Cincinnati the same weekend, Bruntz and Newsome, playing for the younger team, the Dayton Pilots, averaged 18 points per game and went 6–0 in two days to win their pool and advance to the championship game. There the Pilots upset the Kentucky Legends 61–56 in overtime. Newsome scored 14, and Bruntz added 10 points.
Also that weekend, Ahmad Wagner's team, the Salvation Army, played in Columbus and moved up to compete at the ninth grade level and still won the pool and bracket, beating Ohio Glory, 60–29 in the championship game. Wagner had a double double with 12 points and 10 rebounds.