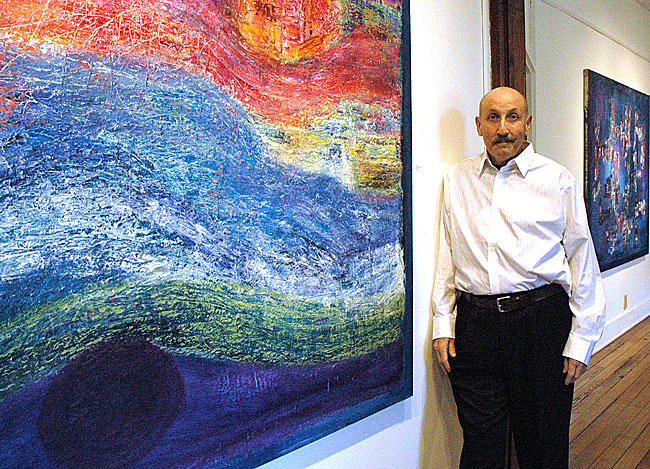 Brukner paintings on exhibit
The large and colorful abstract paintings of villager Ira Brukner are currently on display at the Miller Center for Visual Arts at Urbana University. The solo exhibit is free and open to the public Thursday and Saturday  afternoons from 1–4 p.m. through Dec. 3. The exhibit will not be open Thanksgiving weekend.
To get to the Miller Center, go north on U.S. 68 until you reach Urbana. Turn left at the fourth stoplight (Reynolds Street), and you will run into the Miller Center after several blocks.
The exhibit is composed of paintings created between 2000 and 2011. A self-taught artist, Brukner took up painting after a career as a poet. He describes his work as "a happy accident, an ecstatic surprise" that is mainly driven by his love of color. Most of the paintings exhibited are oils, which Brukner said he prefers due to the oils' rich, textured effect. He uses a variety of tools.
"I use all kinds of brushes, palette knives, all the tools available," he said in a recent interview. "Sometimes I just use my hands."
See the Nov. 17 Yellow Springs News for a more detailed story on the Brukner exhibit.