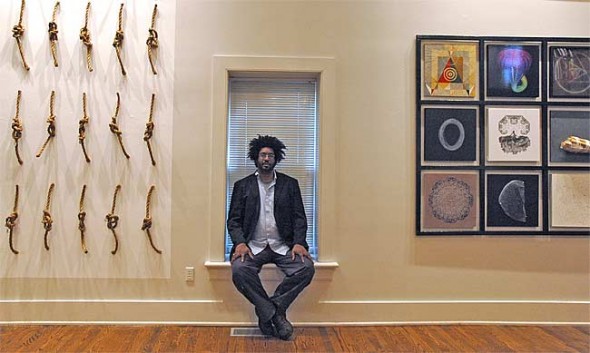 Closing events for Sims art exhibit
Antioch College is sponsoring a weekend of events for the closing of the art exhibit "Rhythm of Structure: Mathematics, Art and Poetic Reflection Bowery and Beyond," curated by Antioch alum John Sims of New York City. The exhibit has been displayed in the Herndon Gallery on campus since its opening in May.
The weekend events kick off with a closing gallery talk by Sims at 7 p.m. Friday, Nov. 4, in Herndon Gallery. Events continue on Saturday, Nov. 5, with "Birth of the Math Artist," followed by a screening of "Rhythm of Structure: Mathematics, Art and Poetic Reflection" at 2 p.m. at the Little Art Theatre. At 7 p.m. on Saturday, the event continues with "The Yellow Springs Responses" at the Herndon Gallery, featuring John Booth, Maria Booth, Bomani Moyenda and Yvonne Seon. An open mic will follow. On Sunday, Nov. 6, the exhibit winds up with a "Math, Art and Poetry" panel discussion with Sims, Bing Davis, Kevin Dean and Kristin Prevallet at 1 p.m. at Herndon Gallery.
The exhibit "explores the poetic intersections between mathematics and art through a wide range of medium: painting, installation, poetry, films and sound art," according to a press release. Curated by Sims, the show was originally a year-long series of events that premiered at the Bowery Poetry Club in New York City. It features the work of Sims along with that of contemporary artists Sol DeWitt, Karen Finley, Dread Scott and DJ Spooky, among others.
Sims is a 1991 graduate of Antioch College who lives in New York City.