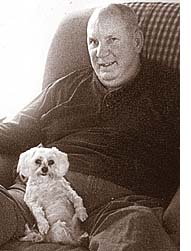 Charles E. (Charlie) Mercer died Nov. 25 at Friends Care Community. He was 77.
Charlie was born, and spent his entire life, in Yellow Springs. His parents were Margaret and Max Mercer.
Charlie was a 1952 graduate of Bryan High School. He married his wife, Glenora, on April 13, 1960. Since 1964, Charlie ran his own business, Charles Mercer Woodworking. Prior to that, he worked for his uncle, local building contractor Percy Mercer.
Charlie is survived by his wife, Glenora Mercer, and his long-time companion, Bubba.
Charlie had a great love for the Glen Helen nature preserve. In lieu of flowers, gifts in Charlie's memory may be sent to the Glen Helen Association, 405 Corry Street, Yellow Springs, 45387. There will be no service.